Baylor's Brittney Griner Named Big 12 Freshman of the Week, Oklahoma State's Andrea Riley is Player of the Week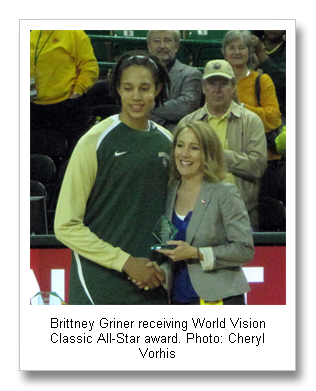 Baylor freshman Brittney Griner picked up her first Big 12 Freshman of the Week award while Oklahoma State's Andrea Riley earned the Player of the Week honor. A media panel voted on games from November 23-29. Riley was honored for the second time this season and ninth time in her career.
Last week Baylor rookie Shanay Washington earned Freshman of the Week honors.
Brittney Griner averaged a team-leading 16.5 points, 9.3 rebounds and 6.0 blocks in just over 24 minutes of action a game in No. 8 Baylor's four victories last week. She shot 62.5 percent (20-32) from the floor and was 26-of-32 (.813) from the free throw line. The 6"8' post added five assists and three steals. Griner registered two double-doubles, collected a career-high 26 points against Lamar and hauled down a career-best 14 rebounds against Louisiana. She tallied two eight-block games vs. Jacksonville State and Lamar. Griner earned World Vision Classic All-Star recognition in leading Baylor to the tournament championship. On the season, the Houston native leads the Lady Bears in scoring at 15.1 a contest. Her 41 season blocks puts her almost halfway to breaking Baylor's single season block record of 86, set by Danielle Wilson in 2006-07.
Andrea Riley averaged 30.5 points, 7.0 assists and 3.0 rebounds in Oklahoma State's two games at the Junkanoo Jam to earn all-tournament recognition. She scored 17 points, had six assists and four rebounds in OSU's win over Marist on Friday. The Dallas senior played all 50 minutes in the Cowgirls' double overtime loss against No. 25 Michigan State in the championship game. Riley notched her second career 40-point game, finishing with 44 points and eight assists. Her point total was one off her career high and broke the previous single-game tournament record of 41 set by Kansas State's Kendra Wecker. Riley's 61 points in the two games also surpassed Wecker's total of 56 for a tournament-best.
Big 12 Player of the Week                         
Nov. 16 – Andrea Riley, OSU, Guard, Sr.                          
Nov. 23 – Brittany Spears, CU, Forward, Jr.
Nov. 30 – Andrea Riley, OSU, Guard, Sr.
Big 12 Freshman of the Week
Nov. 16 – Anna Prins, ISU, Center
Nov. 23 – Shanay Washington, BU, Guard
Nov. 30 – Brittney Griner, BU, Post