DFW Elite signings: Odyssey Sims to Baylor, Akil Simpson to Southern Methodist
Photos: C. Vorhis/cvorhisphotography.com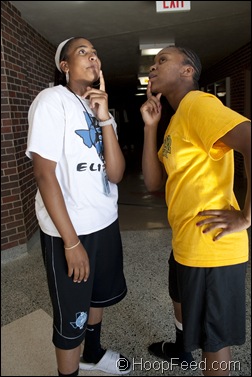 Akil SimpsonHigh School: Duncanville High School. Duncanville, Texas

Club: DFW T-Jack Elite

Position: Forward

Height: 6-0

WNBA star Tamika Catchings is a graduate of Duncanville.


Odyssey SimsHigh School: MacArthur High School. Irving, Texas

Club: DFW T-Jack Elite

Position: Guard

Height: 5-8

Other colleges considered: Tennessee, LSU, Texas A&M

"Odyssey is a player who plays both ends of the floor. It is impressive how much pride she takes in ball pressure and defense. She's an amazing talent with her speed, quickness and defensive pressure." –Baylor coach Kim Mulkey.
Photos taken at the Big State Flava Jam Tournament, July 2009. DFW T-Jack Elite won the tournament. Mulkey's daughter Makenzie Robertson played in the winning game for the team. Robertson verbally committed to Baylor.
Related: