Elliott's 18 lead Southern Methodist past Loyola Marymount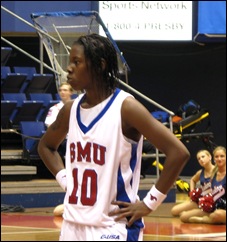 DALLAS – Christine Elliott dominated in a lopsided contest in Southern Methodist's first game of the season. The reigning Conference USA champions never trailed in the 78-58 victory over Loyola Marymount on SMU's home court in Dallas at Moody Coliseum.
While SMU head coach Rhonda Rompola said that Elliot "is going to be double and triple teamed," the 6'3" sophomore also managed to grab six rebounds.
"She is our go to player inside," said Rompola. "We have to find ways to isolate her because she finishes around the hoop."
Four other players had double digits for SMU. Brittany Gilliam (pictured right), Raquel Christian and Jillian Samuels scored 11 each. Haley Day added 10 and a team-high nine rebounds.
The Mustangs overwhelmed the Lions opening the first half with a 26-5 run. LMU started slowly and never recovered. At the half SMU had a 45-21 lead.
Rompola went to the bench often in the second half giving starters Elliot and Alice Severin a break.
"We were able to get Christine and Alice rest in the second half," said Rompola "and it gave us a chance to play Heidi [Brandenburg] and Sarah [Shelton] which was good."
Renahy Young led LMU with 14. Candice Nichols had 11 and Jenna Sybesma added 8.
Next up for SMU is a Wednesday game when they host the University of Arkansas at 7 p.m. CT.
LMU heads back to southern California to complete their season-opening two-game road trip on Monday night at Long Beach State. Tip-off is scheduled for 7 p.m. PT.