Ohio State to host Oklahoma State in Preseason Women's National Invitation Tournament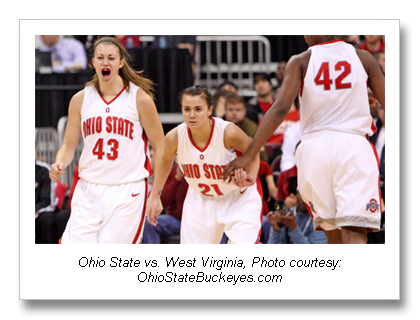 Ohio State defeated West Virginia 92-69 in Columbus, Ohio, in the semifinals of the Preseason Women's National Invitation Tournament.
The Buckeyes, ranked No. 3 in the nation, created a 17-0 lead in the first four minutes before West Virginia could respond. Ohio State now moves on to the title game, where it will host Oklahoma State at 2 p.m. ET Sunday.
Oklahoma State defeated host New Mexico 70-56 in the other WNIT semifinal Wednesday night for its third straight victory.
Preseason WNIT Semifinal Games
Wednesday, Nov. 18
Oklahoma State 70, New Mexico 56
Thursday, Nov. 19
Ohio State 92, West Virginia 69
Preseason WNIT Championship
Sunday, Nov. 22
Oklahoma State at Ohio State, 2 p.m. ET
Consolation Rounds 1&2
Friday, Nov. 20
North Carolina A&T vs. Chicago State at Towson, 5 p.m. ET
Eastern Illinois vs. UTEP at Arkansas-Little Rock, 6 p.m. ET
Winthrop at Towson, 7:30 p.m. ET
Northern Colorado at Arkansas-Little Rock, 8:30 p.m. ET
Saturday, Nov. 21
NCA&T-Chicago State loser vs. Towson-Winthrop loser at Towson, 5 p.m. ET
Eastern Illinois-UTEP loser vs. UALR-Northern Colorado loser at UALR, 5:30 p.m. ET
NCA&T-Chicago State winner vs. Towson-Winthrop winner at Towson, 7:30 p.m. ET
Eastern Illinois-UTEP winner vs. UALR-Northern Colorado winner at UALR, 8 p.m. ET
Consolation Round 3
Saturday, Nov. 21
Bowling Green at Marist, 1 p.m. ET
Florida Gulf Coast at Georgia Tech, 2 p.m. ET