Robin Roberts wins Walter Camp Football Foundation "Distinguished American" Award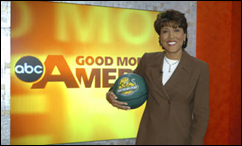 Former Southeastern Louisiana women's basketball player Robin Roberts, accomplished student-athlete, media personality, author and breast-cancer survivor, is the 2009 recipient of the Walter Camp Football Foundation "Distinguished American" Award.
The Walter Camp "Distinguished American" award is presented each year to an individual who has utilized his or her talents to attain great success in business, private life or public service The recipient need not have participated in football but must be one who understands its lesson of self-denial, cooperation and teamwork, and one who is a person of honesty, integrity and dedication. He or she must be a leader, an innovator, even a pioneer, who has reached a degree of excellence that distinguishes him or her from contemporaries, as well as someone who lives within the principles of Walter Camp.
"Robin Roberts has had a distinguished record of excellence in her athletic and professional career which makes her a worthy recipient of this honor," said Foundation president Alphonse Paolillo, Jr. "Her leadership and courageousness is an inspiration to many Americans and we are privileged to recognize her."
Past recipients of the Walter Camp Distinguished American honor include nationally-respected sportscasters Pat Summerall (2004) and Keith Jackson (1995), all-purpose television personality Regis Philbin (2003), NBC Sports Executive Dick Ebersol (1996), former NFL Commissioner Paul Tagliabue (1994), world-renowned entertainer Bob Hope (1985), and former college coach Eddie Robinson (1982). Roberts is the second female to be recognized with this prestigious honor. Actress and community activist Susan Saint James was honored in 1991.
Currently an anchor of ABC News' "Good Morning America" show, Roberts has worked in broadcasting for over 25 years. From 1990-2005, Roberts worked at ESPN, where she was one of the network's most versatile commentators. Among her assignments included hosting "SportsCenter," contributing to "NFL PrimeTime" and providing reports and interviews from the field. She also worked as a play-by-play commentator for ESPN's WNBA coverage as well as reporting at the Summer and Winter Olympics.
A native of Pass Christian, Mississippi, Roberts was an accomplished student-athlete at Southeastern Louisiana. In 1983, she graduated cum laude with a B.A. in communications after excelling on the basketball court. She ended her collegiate career as the school's third all-time leading scorer (1,446 points) and rebounder (1,034).
She started her broadcasting career in radio before moving to positions as a sports reporter and anchor at television stations in Mississippi, Tennessee and Georgia. She then moved to ESPN before being named to her current post in 2005.
Roberts has been well-recognized for her professional success. She was named a "Louisiana Legend" by Louisiana Public Broadcasting. She has received the "Excellence in Sports Journalism for Broadcast Media" award and was inducted into the Women's Institute on Sport and Education Foundation's Hall of Fame. Her book, From the Heart: Seven Rules to Live By was published in 2007 detailing her successful battle and awareness campaign against breast cancer. In the paperback edition released the following year, Roberts added an eighth rule. Roberts currently resides in New York City.
Roberts as well as all of the major award winners, including Man of the Year John Elway, and members of the 2009 Walter Camp All-America team, will be honored at the organization's 43rd annual national awards banquet on Saturday, January 16, 2010 at the Yale University Commons in New Haven. Sponsorships and dinner tickets are available by calling (203) 288-CAMP.
Walter Camp, "The Father of American football," first selected an All-America team in 1889. Camp – a former Yale University athlete and football coach – is also credited with developing play from scrimmage, set plays, the numerical assessment of goals and tries and the restriction of play to eleven men per side. The Walter Camp Football Foundation – a New Haven-based all-volunteer group – was founded in 1967 to perpetuate the ideals of Camp and to continue the tradition of selecting annually an All-America team and honoring deserving individuals.
Photo courtesy: Southland.org