The rocky road back to Tulsa: Nolan Richardson returns, Part 2
Post-Arkansas
For years after leaving Arkansas, Richardson did not interview for a coaching job at any other school, another indicator, according to him of the double standard black coaches endure in college sports. While controversial figures like Bob Knight and other fired coaches received second chances, Richardson said that because he challenged Arkansas, he was overlooked.
"No one's ever given me that opportunity," Richardson told ESPN in 2007. "No. I wrote this one time, I think I'm the only head coach in America, with my credentials, that when jobs are open, has never [been] interviewed."
In the meantime, he held coaching clinics, gave speeches and hosted the annual Nolan Richardson Charity Golf Tournament in memory of his daughter.
He took his coaching skills to the international level. He served as the head coach of the Panamanian National Team from 2005 to 2007. And in March 2007, Mexico named him head coach of the country's national team, a natural fit for him since he was immersed in Mexican culture as a child.
At last in 2008, he entered talks with Arkansas State, but negotiations fell through and he dropped out of the running for the job.
Back in T-Town


The new BOK Center in Tulsa
This past summer a group of investors announced plans to launch a campaign to bring a WNBA team to Tulsa. League president Donna Orender joined Tulsa Pro Hoops LLC at the July 22, 2009 press conference.
Lead investors, Oklahoma City businessmen Bill Cameron and David Box, recruited Richardson to commit to coaching the team even before they secured a WNBA franchise for the city.
While he has never coach women before, he earned plenty of praise from colleagues in the coaching ranks who were confident that he would succeed at the new task.
"I worked with Nolan for nine years. He has a passion for the game," said Texas A&M women's basketball head coach Gary Blair during Big 12 Media Days in late October.
Blair was the head coach of the women's team at Arkansas from 1993 to 2003.
"He also has a passion for young ladies, as most of you know," continued Blair. "His daughter died of leukemia. His wife was one of our biggest fans. They used to come to our ball games in Arkansas, and the kids would love to go up and talk to her. I think it's a perfect fit. I think he'll do very well, particularly if he's getting Detroit's team."
Richardson was grateful for the kind words.
"I appreciate that very much," he said. "I'm excited about what I'm about to undertake."
He is confident that the team he inherits from the now defunct Detroit Shock, who are moving to Tulsa, will make his job enjoyable because they know what it takes to win a championship.
"I'm excited about the fact I've got a team that's got some veteran players that've been there and done it and know what it takes to get it done. All those things make it a job that I can really go in and concentrate on."
Addressing the fact that he is new to coaching women he says "I always thought coaching is coaching, whether it is men or women, you know you're still coaching and teaching and that's what I enjoy doing."
NBA legend Bill Laimbeer, the Shock's coach for several seasons, also came in the WNBA without experience coaching women on the pro level but he led the team to three championships in six years.
Richardson "followed the women's game as a fan" but now that he is a coach, his passion is to add another championship to his list.
When asked about the players he's most excited about he talked about Deanna Nolan. "I've kept an eye on her and followed her."
He mentioned Alexis Hornbuckle because "she comes from a tremendous program."
He also said Cheryl Ford "is impressive."
He seemed unperturbed by questions in reference to getting the Shock veterans accustomed to his "40 minutes of hell" and adamant about its potential for success in the WNBA.
"That's my trademark, that's my game plan," he said. "These women are professional women and they are on the highest level….They're capable of playing the style that I would love for them to play. It's an up-tempo style on offense and an up-tempo style of defense. We don't want to back down on one end of the floor to play good on the other end of the floor."
Given that at Arkansas he was able to fit Oliver Miller, a "6-foot-9, 270-pound pizza belly" (Pittsburgh Post-Gazette) and "blob" into his system, he might succeed.
Richardson admits that he will be watching a lot of tape to study his future team and the league but is undaunted. Once of his main tasks he says is reaching out to his new team.
"I have to get information out to the young women, the Shock to let them know I'm really happy and proud of what they've accomplished."
He also has to assemble a staff and help get the word out in the local community. He is looking forward to renewing his bonds to Tulsa.
"I'm going back and I'm really looking forward to rekindling, getting some of the old friends and some of the people that supported us so well with a new brand of basketball…that will really get the excitement that we used to have in those days back."
When talking about the benefits of the city, he sounds like a member of the Chamber of Commerce.
"The thing about the Tulsa area," he says, "it is the cleanest, greenest city that I've seen and I've seen a lot of places."
He was especially excited about the city's new arena.
"Where we're going to be playing at the BOK Center, I guarantee there's not a facility in the country that's better than where we're going to be playing our games," he said. "Tulsa's got so much going for it and yet it's not considered one of the big-time places."
Putting It All In Perspective
Before Richardson begins coaching in the league, his life will be documented in a book written by New Mexico State University English professor Rus Bradburd, Forty Minutes of Hell: The Extraordinary Life of Nolan Richardson
.
"I've never read a sports book I would describe as operatic until now," said Dave Zirin, author, A People's History of Sports in the Unites States. "Nolan Richardson's story, both unique and universal, would challenge the most seasoned biographer, but Bradburd's libretto is heartbreaking and inspiring. This is the finest sports biography I've read in years, hands down."
The book goes on sale in February 2010.
With over 40 years of sports history behind him, Richardson is still amazed by a few things. For one, having a basketball-loving man of African ancestry in the White House.
"I thought in my lifetime I would never see a black president," said Richardson. "It just makes me feel much more pride for who I am and what I am and what I've tried to accomplish by having a [black] man that has now become the president, who is a youngster to me."
But Richardson said he also never thought he would become the head coach of a predominantly white southern university.
A Time of Healing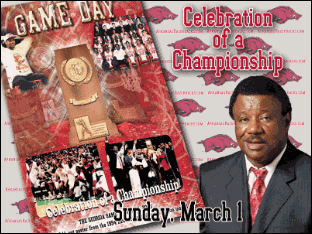 Arkansas celebrates the 1994 title in 2009
History, at least the time involving his tenure at Arkansas, has come full circle. In March the school held a two-day "Celebration of a Championship" commemorating the 15-year anniversary of the 1994 title. Nolan had not attended a home game since leaving Arkansas years ago but he said that it was important to have a "healing process" in reconciling what happened.
"It's been a long time since I've been on this campus," he said during the celebration's news conference in the interview room at Bud Walton Arena. "It's been a long time since I've been in this room. But it still remains the same in my heart."
And back in his hometown of El Paso, there is a middle school and a recreation center named in his honor.
Related: