The rocky road back to Tulsa: Nolan Richardson returns, Part I
If Nolan Richardson were to never coach another basketball game, he could rest on his laurels knowing that his accomplishments had already earned him a place in United States history. While his coaching prowess clearly puts him in elite company among contemporary sports figures, the trajectory of his life makes him an icon on the level of other African-American men from Texas such as modern dance legend Alvin Ailey, California political honcho Willie Brown and pioneering former Congressman Mickey Leland.
The threads that bind Richardson to Ailey, Brown and Leland: they were all born in the mid-20th century within a decade of each other in a segregated Texas where mob violence and lynchings against blacks were commonplace. Yet, each one soared to heights in their respective fields, collecting a long list of firsts.
Richardson, a member of the National Collegiate Basketball Hall of Fame, is the only coach in history to have won a championship at every college level.
Roots in the Borderlands

In the far reaches of west Texas at the New Mexico and Mexico border is El Paso. The city where Richardson was born in 1941 sits 3,762 feet above sea level among a harsh desert landscape and rugged mountains with the Rio Grande River separating it from Mexico. Raised by his grandmother, he grew up in the tough Segundo Barrio" also known as El Pujido–slang for tough and rugged. They were the only black family in the oldest neighborhood in the city. His mother died when he was just three and his father, who was an alcoholic, passed away when Richardson was 12. But his grandmother had faith in her grandson telling him "you're special" and that he would have a successful life.
He picked up Spanish (he speaks the language fluently) playing sports with his childhood friends and was the first black student to attend Bowie High School.
A standout player in high school, legendary coach Don Haskins recruited Richardson to play at the University of Texas-El Paso (then Texas Western College). Unfortunately, racism reared its ugly head in his playing days. Because of segregation, he was not allowed to attend movies or stay at the same hotels during team travel with his white teammates. And in a game against Centenary in Shreveport, La., Richardson did not play because his team's opponent did not allow black athletes on its court.
When I couldn't go to the movies on my side of town, I'd just go across the border and go to the movies," he said in an interview with the St. Louis Post-Dispatch. "When I couldn't ride the bus on my side of town, I'd go across the border and ride the bus. I'm very proud of where I was; I'm very proud that I know where I've been."
His coaching career began at his high school alma mater, where he started to employ his famous "40 minutes of hell" strategy—stifling full court press and aggressive offense. He was the first black coach at a desegregated high school in Texas.
He continued to break barriers in the next stage of his career at the junior college level, becoming the first black coach at West Texas Junior College. He led them to the National Junior College Championship in 1980. And when he became the coach at the University of Tulsa in 1981, again he was the first black coach and guided the team to the National Invitational Championship in 1981.
During his four years in Tulsa, he cultivated a rabid fan base for his team and became a beloved member of the community known for the colorful polka-dotted shirts he wore at games. He did not mind that his attire made him stand out on the sidelines.
I've always believed that a person in my position should be more than just a basketball coach, he said in an interview with Sports Illustrated about his clothes. "With my visibility, I can help bring the community together. And especially as a black man, I can show people how to respect one another better."
He speaks of this time in Tulsa with wistful nostalgia.
I was very blessed and very fortunate to start over there in 1980,"he says in a phone interview. I started off with a bang, winning a National Invitational Tournament and having the opportunity to create fan support. I was in love with the city.
Tulsa, the site of the most violent race riot in American history, had its own share of problems related to race. The city boasts world-class arts facilities, a state of the art arena where a new WNBA team will play, and many other sources of civic pride. Yet the reverberations of the riot still haunt the area. It decimated the Greenwood neighborhood, site of the city's famous "Black Wall Street."
Nevertheless, Richardson excelled, posting a 119-37 overall record for a .763 winning percentage. He became the first coach in NCAA history to win 50 games in his first two seasons and led Tulsa to five postseason tournament appearances including two Missouri Valley Conference regular season titles.
During his last year at Tulsa his youngest daughter, 13 year-old Yvonne, was diagnosed with leukemia. At the time he was considering an open position at the University of Arkansas and was hesitant about accepting the job. But Yvonne encouraged him to take on coaching the Razorbacks and he left his family and headed to Fayetteville.
The Arkansas Years
Already a coaching phenom, armed with championships and the support of his family, Richardson would face the greatest challenges and tragedies of his life in Arkansas—from the entrenched racial animosity he faced as the first black coach in the Southwestern Conference (Arkansas did not join the SEC until 1991) to Yvonne's death.
Even in 1985, many whites in Arkansas were not ready for a black coach to take over at their beloved school. Some were brutal, booing him during games. And he received his fair share of hate mail. Starting out the first season with a record of 12-16 did not help matters. The second year Richardson's record improved to 19-14.
He was not only the coach of the men's team, he became a confidant for black players on the women's team who felt alienated at the school. In testimony before Congress on the lack of diversity in leadership positions in the NCAA in 2007, he said that the basketball players on the women's team "often sought my help and support because they felt they had no one to turn to."
"They felt they were discriminated against," he said. "The women's basketball coaching staff was white and the African American Coach they had, felt as if she was powerless and had no voice. No one would listen to the African American girls. I had to intervene on their behalf and go talk to their coach about their concerns."
He also said that he did not receive the contracts and "enormous bonuses" that other coaches received even though he outperformed them. And in a dual role as Associate Athletic Director, he was frequently left out of meetings.
"As I inquired about the meetings and my duties, it seemed like a tremendous amount of effort was made to not include me," he said "and I was often stonewalled. It became quite evident to me that I was experiencing 'tokenism.'"
Eventually, he managed to gain widespread appreciation from fans across the state. He took the the team to six straight Sweet Sixteen appearances from 1990 – 1996.
During his last year at Arkansas, Richardson challenged the administration mid-season. With a 13-14 record, critics were once again breathing down his neck. His attackers included columnist John R. Starr who wrote for the Arkansas Democrat-Gazette, the state's most influential newspaper. Starr was relentless and once attacked Richardson in his column for three straight days in the week leading up to Arkansas' national championship run in 1994. Nolan fought back and said he felt that if he were a white coach, he would be viewed in a different light.
"If they go ahead and pay me my money, they can take this job tomorrow," he said. "I'm glad I don't have to answer to really anyone but myself and my God upstairs. That's the only people I answer to for real. I'll answer to the chancellor and the athletic director, but fans and things of that nature, I don't answer to those people."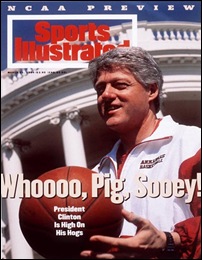 His supporters not only included his college coach but former President Bill Clinton, also a frequent target of the Democrat-Gazette. In Taylor Branch's book, The Clinton Tapes, he writes about the paper's characterization of Richardson from Clinton's viewpoint.
Headlines derided the coach ("Nolan wrong as rain"), while stories mocked his looks, diction and coaching style, which the paper variously called "rat ball," "ghetto ball" and a "Globetrotters" carnival. "They did everything but call him a 'nigger,'" said Clinton, adding that for him — and for Hillary, too — a crowning satisfaction of Arkansas's first national basketball championship last month was getting to watch the Democrat-Gazette eat all the hateful things it had written about the victorious coach."
Arkansas chose to dismiss Richardson and buy out his contract. He filed a lawsuit against the school, a few Arkansas officials and the Razorback Foundation claiming wrongful termination. He felt that he was punished for being outspoken and was subjected to racial discrimination. A judge dismissed the lawsuit in 2004.
After 17 years at Arkansas, Richardson was 389-169 (.697). Since then, Arkansas has never advanced past the second round of the NCAA tournament.