WNBA player Charde Houston harnesses the power of social media to give back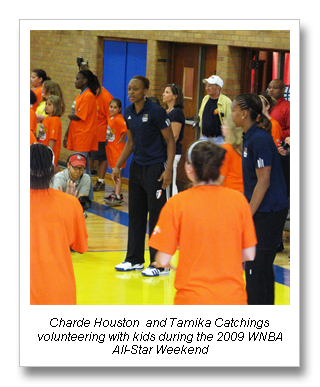 Ever since WNBA All-Star Charde Houston joined the social networking website Twitter this past April, her plans to create a non-profit organization serving underserved youth have been a frequent theme of her tweets. For several months most of her posts about the project addressed the steps one needs to take in order to create a charitable organization—filing a 501(c)(3), applying for an Employer Identification Number (EIN), getting advice from legal and financial professionals and consulting with similar organizations. However, her plans to bring her non-profit into fruition escalated in November when she read about the plight of a young female basketball player in San Antonio.
In the early hours of Saturday, November 15, the mother of an 11 year-old player for the South Texas Hoyas, an AAU girl's basketball team in San Antonio, died in a fatal domestic violence incident. In a strange twist, just miles away, Houston's alma mater, the number one ranked powerhouse Connecticut Huskies, prepared for a nationally televised game to be broadcast on ESPN2 the next day.
Houston, playing in the WNBA offseason in the south of France for EuroLeague team Tarbes, did not let the thousands of miles and an ocean deter her immediate decision to help out the young player and her eight year-old brother. Not only did they lose their mother, the children were left homeless after the tragedy. The Minnesota Lynx forward, no stranger to hardship herself (her family was homeless for a brief period when she was a youngster growing up in San Diego), felt an immediate connection and quickly contacted the Hoya's coach Theresa Nunn. The two women quickly fused a bond and began a transatlantic mission.
Using Twitter to solicit monetary and material donations, Houston began an online fundraising drive supplemented by her followers retweeting her efforts and a web page created by Linda Estep.
Fans and celebrities (Alyssa Milano was one of the first) from all corners began retweeting and donating, players and coaches chipped in and the WNBA posted her blog post on the subject at WNBA.com. She wrote:
I have come up with an idea to help raise money for this family. Based on the number of followers I currently have on twitter, if everyone donated just $2, we would be able to raise $3,288.00 for this family in need. Along with myself, many people who follow me have decided to take a big step in donating money to this family. Of course, if you are able to give more, that is always appreciated.
Houston is slightly short of her goal at the moment but has received items for an auction to continue raising funds. Some of the items include autographed shoes and other items from not just her Lynx teammates but also from Candace Parker, Temeka Johnson, Diana Taurasi, Cappie Pondexter, Ketia Swanier and many others.
In addition to help from several other AAU teams, San Antonio Silver Stars coach Dan Hughes, Auburn coach Nell Fortner and other basketball professionals also pitched in to help Houston and Nunn.
Houston took some time out of her European sojourn to do an email interview with Hoopfeed.com on her passion for giving back, life overseas in the offseason and her thoughts on the next season of the WNBA. (The names of the children have been abbreviated to protect their privacy.)
Q: You've been in the planning stages of your non-profit organization this year and now you've started the effort for the family in San Antonio, why did their story hit home for you?
A: Honestly, I can't really pinpoint exactly what it was. All I can say that there was a feeling that passed over me while reading their story. Feelings of compassion and sympathy ran thorough my heart. I remember when I went through my hardships around that age, and it was very difficult. I just wanted to reach out to that family, and let them know that everything was going to be okay. I would be willing to help them in any way possible.
Q: When you found out about them, did you have any hesitation in setting up a fund drive to help them out?
A: No, not at all. I had everything set up within a day and a half. My agent, Eric Weisel does a great job of allowing me to live out my dreams. If I propose something to him, he tries to make it happen for me right away. His staff does a great job of providing everything that I need in a timely manner. I didn't want it to take long before I stared because they need immediate help. I want to provide that as soon as I could.
Q: How have your interactions been with the kids and how do you plan to stay involved with them as they grow up?
A: I have interacted with A—  more because she's a little bit older. I just want to wait until the right time to interact with T—, because he's only eight. Hopefully sometime this week, I will be able to talk to him. As far as being involved, I really want to be a mentor, not only to A—, but to T— as well. I always want to involve both in whatever I do, because they both had to experience the tragedy.
Q: You said on Twitter that you plan to go to San Antonio to present the gifts/funds in person around the Christmas holidays, what prompted that decision?
A: I know that they're very appreciative of everything that my foundation has done. But for me, a smile is priceless. I just want to meet them in person to show them that I can be a positive influence, no matter how far the distance. My future goal is to possibly bring them along on a road trip with me, to keep them inspired.
As for T—, I want to find a really good male role model that he can look up to. It may not matter now, but I feel it will be important when he gets to be a little bit older.
Q: How do you feel about the response that you've received, from your followers on Twitter, from fellow players/athletes/coaches and celebrities?
A: I am overwhelmed in knowing that I have so much support. I never thought that it would amount to something this big, but I am so thankful that it has. There is so much to be learned about this situation. As we go through this, it not only raises awareness about the types of struggles that kids have to endure, but it also brings attention to domestic violence. If more people are educated, they will find alternate ways of dealing with anger, so situations such as this one don't continue to happen.
Q: Why are you such a big fan of social media like Twitter/Myspace/Ustream etc.?
A: Personally for me Twitter, Facebook, and Ustream are my favorite. It gives fans a chance to get to know me, and understand that there is more to my life than shooting hoops. Basketball allows me to meet people from different areas of the world, and live different lifestyles. No matter what they're accustomed to, I am willing to help anyone who seeks it. If don't know how to help you, I will find someone who can. That's a motto that I've lived by for so long. So many youth lack positive influences. If they follow me on any websites, they will be able to define the true definition of a "woman." I carry myself with confidence and, with the utmost respect. This is something that every young lady should strive to adhere to.
Q: What are your future plans for Project Y.O.U.?
A: As for right now, I'm just really focused on starting up my foundation. Once I get the ball rolling on that, I will be able to think about other things such as: a Black Tie Gala, a national conference, and starting up something that me and my friends are currently discussing. Eventually, I want to incorporate "Women of Strength" which is aimed towards older women who are trying to find their place in society.
Q: How are things going for you in France? Any "culture shock" moments you would like to share? How was it playing in Moscow against your colleagues on the Spartak team?
A: I like it here! The people are nice and welcoming. My town is so small but I must say that I always have a funny story. I never noticed that people don't walk down the street eating at all; at least I've never seen it. Prior to me realizing it, I would always eat my chips that I got from the States. I could never understand by people would give me weird looks. When I finally spoke with one of my friends who lived here before, she explained to me that that's one of the things that the French people don't really do. I've learned that if I want something, I eat it before I leave. If I can't finish, I should save it for later…haha.
As for my colleagues in Moscow, I was just happy to see that they were in good spirits after their tragedy. Although that happened, they still came out extremely tough. Tough to the point where the score was 22-4 in the first three minutes. It's always good to see the ones that you've grown up with, played with and looked up to. Even though we play on different WNBA teams, I always want to see others do well. In the end, the entire league improves because of it.
Q: What are you looking forward to in next season of the WNBA?
A: I am looking forward to next season because I get another opportunity to improve and hopefully make the All-Star team. That was a great experience, and I definitely want to strive for that every season. Also, I am happy to be possibly be partnering with Perspectives, Inc. where I will be teaching a group about Leadership, Self-esteem, Education, and safe sex. Along with that group, I will be holding weekly foundation meeting touching upon the same topic.
Q: Any thoughts on the folding of the Sacramento Monarchs?
A: It saddens me to know that one of our teams folded. I just want the WNBA to improve so that the next generation has a chance to live out their dreams.
If you do not have a PayPal account, you can still donate, just click on the link toward the bottom that says
"Don't have a PayPal account…."
To mail in a donation please send checks or money orders to:
Rose Sledge
PO Box 740070
San Diego, CA 92174
Donations of gift cards for Christmas Presents are also accepted. Contact Houston via twitter (@charhouston) or email at projectyou@chardehouston.com.
Around the Web:
Related: