Griner dunks twice, sets a blocking record in Baylor rout of Texas State
WACO – It was one for the record books for Baylor women's basketball Saturday night in Waco. The Lady Bears gave the crowd of 6,660 a show at the expense of the Texas State Bobcats in a 99-18 rout.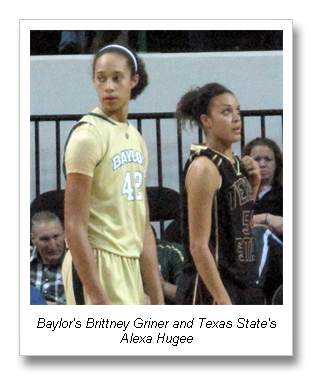 For Baylor head coach Kim Mulkey's 250th career win, freshman sensation Brittney Griner set a record, tied another and the rest of the team racked up a few as well. After only 14 games, Griner cracked Baylor's single season record for blocked shots with 88. Her three in the game moved her into 10th place on the Baylor career blocked shot list. She passed Kacy Moffitt (45), Melanie Hamerly (48), Maggie Davis Stinnett (48), Bernice Mosby (51), Steffanie Blackmon (58), Carol Reeves Brandenburg (76) and Danielle Wilson (80, 83, 86).
"They say records are meant to be broken," said Mulkey about Griner's blocking prowess. "I'm not sure that when she finishes her four years that anyone will ever come close to her shot block record."
After wowing the crowd with five dunks in the halftime shootaround, Griner proceeded to dunk twice in the second half. The first, a strong two-hander, came from a pass across the lane from Kelli Griffin to Melissa Jones who dumped the ball off to Griner. It gave Baylor a 49-5 lead with 19:36 left in the game. The second came at 17:53 when she took a pass on the baseline and made a one-handed dunk.
"That play was really exciting," said Griner about her first dunk. "It got everybody pumped up, and it led to another one. I was looking for it just in case [Melissa Jones threw it to me]. She had thrown me one once before, and I wasn't ready. That's why I was trailing to let her know I was coming."
Mulkey, who stood underneath the basket watching Griner dunk during the halftime warm-ups showed excitement as well.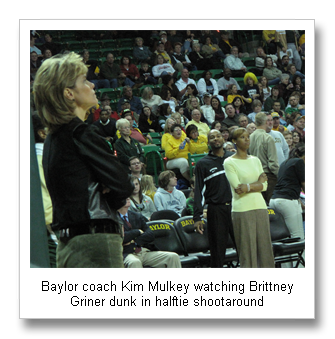 "It woke everybody up," she said. "I'm sure it'll be on SportsCenter."
Griner joins former Tennessee player and WNBA star Candace Parker as the only two females to tally two dunks in a game. Parker dunked twice in a game against Army on March 19, 2005.
Griner became just the seventh female to dunk in a regular-season NCAA contest when she threw one down against Jacksonville State on November 24, 2009.
Griner also scored in double-figures for the 13th time this season. She finished with 26 points, eight rebounds and three blocks. Three other Baylor players also scored in double figures. Freshman Jordan Madden tallied 13, sophomore Ashley Field had 12 and senior Morghan Medlock added 11.
TSU never had the opportunity to get their offense off of the ground. Smothered by the defense of a more athletic and vastly more talented Baylor squad, it took the Bobcats until 11:05 in the first half to score. A jumper from starting point guard Victoria Davis finally put TSU on the scoreboard. A three-pointer from guard Diamond Ford ended their first half offensive success. She led Texas State with seven points.
Davis, who went down with a twisted ankle late in the first half, did not return to the game.
The five first half points by Texas State marked the fewest allowed in a half by Baylor in program history. The Lady Bears have held its opponents to an average of 21.9 points in the first half, while scoring an average of 40.7 in the first half.
Baylor is now 250-67 (.789) under Mulkey who is in her tenth year at Baylor. Since coming to the central Texas school, she has led the program to a dramatic rise including nine postseason appearances, eight NCAA tournaments and a national title.
She was humble when reminded about the accomplishment.
"This is about the kids," she said. "This is what I get paid to do, to coach. Because of [the kids] I get to have a little record. It's secondary to everything else that is going on."
Even with the lopsided win, Mulkey was not completely satisfied with her team's performance.
"I thought we turned the ball over too much tonight," she said. "I didn't think we made free throws tonight. So as complimentary as I can be about some of the things that we were trying to do, and they were good doing the things we asked, I would like to look down [at the stat sheet)] and see that we have less than 10 turnovers and I would like to look down here and see that we are shooting pretty good from the foul line. Some of the things that we did tonight tell me this basketball team is growing and listening."
Nevertheless she could not help but heap some praise on her team.
"It was just pleasant to watch them play tonight," she said. And acknowledging the upcoming Big 12 schedule she said "if we can just keep this for 16 games it will be an interesting sixteen games."
Baylor improves to 17-3 against Texas State. The Lady Bears begin Big 12 Conference play on the road against Oklahoma State on January 9.
Notes
Baylor is 116-8 in regular season, non-conference games under Mulkey, with a 75-1 record in the Ferrell Center in those games.
Baylor has won 39 of their last 42 home games.
Nae-Nae Hayden set career-highs with 6 steals and 10 points.
Hayden scored in double-figures for the first time in her career.
Jordan Madden scored in double-figures for the second time this season.
Morghan Medlock scored in double-figures for the 11th time this season.
Shanay Washington had a career-high 4 steals.
Baylor nearly matched the Division I record for fewest points allowed in a half and in a game. Florida State held Savannah State to three points in 2003. Texas Southern only scored 16 against Texas Christian in 2002.
Related: