Kim Mulkey goes for 250th career win, No. 5 Baylor wraps up conference play
vs.
Baylor vs. Texas State
January 2, 2009
7 p.m. CT
Ferrell Center, Waco, Texas
Radio: Star 92.9 FM (Waco)
Video Web Stream: BaylorBears.com, Audio Web Stream: BaylorBears.com, Live Stats: BaylorBears.com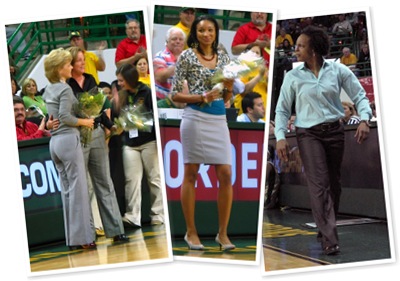 Kim Mulkey reunites with Angela Lawson, Jessica Morrow and Teresa Weatherspoon
Baylor head coach Kim Mulkey started the season with several games reuniting former players and coaches. And now, after ten years of building Baylor into an elite program with a national title under its belt, Mulkey looks to seal her 250th win on the cusp of another decade.
Before the season began, she prefaced the year with of nostalgia when talking about basketball colleagues who would come to Waco to compete against her top-ranked squad and give former Louisiana Tech head coach and Baylor assistant Leon Barmore the opportunity to see some of his former players. Games against St. Edwards and Incarnate Word in preseason play started the trend.
"I tried very hard this year to play teams that were coached by former Lady Techsters," said Mulkey during the Big 12 Media Day back in October. "We'll have one against Jennifer White [of the] St. Edward's team. Jennifer played with me at Louisiana Tech. Coach Barmore coached her. And then Angela Lawson, Incarnate Word, we'll play them also."
While Baylor cruised to a 97-43 win over St. Edwards on November 3, the Division II team from two and half hours south on Interstate 35 in Austin managed to escape without giving Lady Bear freshman sensation Brittney Griner the chance to dunk.
"When we were in practice our kids were saying, 'we weren't going to be the first to give her a dunk,' and we weren't," said White. "So we are going to pass that torch on to someone else and let them be the first team. But that was a goal of our kids, to not let her have a dunk. She is going to dunk in a game and it is just a matter of time. We just didn't want to be the first team it happened to."
White, in her seventh season at St. Edward's, played with Mulkey on LaTech's 1981 AIAW Division I and 1982 NCAA Division I National Championship teams. She was an assistant under Barmore for five years (1985-1990) along with Mulkey. LaTech won the national championship again in 1988.
Several days later, Incarnate Word head coach Angela Lawson and graduate assistant Jessica Morrow received a hearty welcome from Mulkey and Lady Bear fans in pregame ceremonies. Lawson was a Baylor assistant for six seasons before leaving for Incarnate Word. Morrow completed her four-year Lady Bear career last season. Her 1,312 career points ranks her No. 17 on Baylor's all-time scoring list.
Next up would have been a meeting with former Tennessee Tech head coach Amy Brown who started for four years at LaTech under Mulkey and Barmore in the mid-1990s. Brown resigned from Tennessee Tech before the season began.
"At the time we scheduled the game, Tennessee Tech was coached by Amy Brown," said Mulkey. "So I made a conscious effort to try to play as many schools to allow Coach Barmore the opportunity to see his former players in action."
The most well-known reunion came in early December when former WNBA star Teresa Weatherspoon came to Baylor with her LaTech squad.
While at LaTech under coaches by Barmore and Mulkey, Weatherspoon was a two-time Kodak All-American (1987, 1988), won the Wade Trophy as the top player in the country during her senior season and was a key member of the1988 championship team.
Weatherspoon's team gave Baylor its first real competition during the season after a Lady Bear six-game winning streak. Mulkey was quck to praise LaTech's coach while fuming over her team's slim ten point margin of victory.
"Give Teresa Weatherspoon credit, she's got guts," said Mulkey. "She played man-to-man when nobody else would play man-to-man against us, and I loved every minute of it."
Now with conference play on the horizon, Mulkey will most likely earn a career milestone Saturday evening. When she came to Baylor in April of 2000, the team had just completed a losing season with a dismal 7-20 record and sat in last place in the Big 12. But the Olympic Gold medalist went to work in Waco and managed to take the team to a 21-9 record in her first season and get Baylor its first-ever NCAA Tournament berth. The team won the national championship in 2005, the only women's basketball national title in the Big 12 Conference's 13-year history.
Overall, her record at Baylor is 249-67 (.788), which ranks her No. 4 nationally in winning percentage.
Baylor's 12-game winning streak goes on the line when they face the Texas State Bobcats (4-6) Saturday evening. Three Lady Bears are averaging double-digit scoring. Freshman post Brittney Griner leads the team with 19.2 points a game while senior Morghan Medlock tallies 12.8 and junior guard Melissa Jones is averaging 12.2. Griner, in the history books already for her dunks and triple-doubles this season, may well set another record in the game. With 85 blocks so far this season, she needs just two more to crack Baylor's top 10 career blocks list and become the program's single-season block leader.