No. 11 Nebraska stays undefeated, beats No. 9 Baylor with a barrage of treys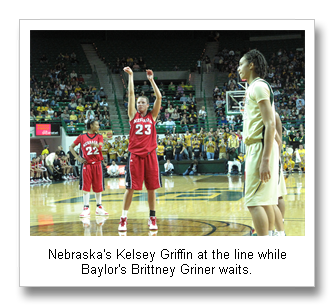 WACO, Texas – Nebraska continued its winning ways taking down No. 9 Baylor (14-3, 1-2) on the road in front of a hostile and season-high crowd of 7,883 in Waco Sunday afternoon. And in the process of stopping Baylor's home streak of 14 wins, the No. 11 Huskers, delivered several records of their own.
Nebraska (16-0, 3-0) , with the highest ranking ever in school history, tied the school record for treys at 12. Amazingly, they started off the game 1-11 from three-point range before getting to that number. Senior forward Kelsey Griffin's double-double was her fourth in a row. She now has eight for the season. Senior guard Yvonne Turner had a career-high six three-point shots.
"We didn't come into the game with a plan of shooting a lot of three-pointers, but they were there for us and we finally started hitting them after missing early in the game," said Turner . "I was just glad I could help my teammates by knocking down some shots. Our inside game with Kelsey and Cory [Montgomery]) draws so much attention, that it leaves us open, so we have to hit. Luckily, we were able to do that today."
In a tight game, filled with physical play, numerous lead changes and low scoring percentages, it was Nebraska's experience that led the Big Red to prevail. After a low scoring first half, Nebraska went into the half with the lead, 31-26. Baylor's deficit at the break marked the largest at the half since Louisville led Baylor 28-19 on March 28, 2009. The Cornhuskers took the game with a 17-6 run in the final 8:23.
Both head coaches agreed that Nebraska's leadership was a key component and neither were surprised by the outcome.
"I hope y'all don't think this was unexpected," said Baylor coach Kim Mulkey post-game. She talked about her team's youth and offensive lapses in the loss.
"It's a youth and experience thing." She called Baylor's offense "wild" and "herky jerky" while also praising the poise and demeanor of Nebraska.
"Look at the league," she said of the Big 12 Conference, one of the toughest in the nation. "They're  juniors and seniors in this league. There will be one day when we grow up and we won't be as wild on the offensive end."
Nebraska's Griffin agreed with the coaches.
"That was a great win for us," Griffin said. "Obviously Baylor is a great program and they have some amazing athletes and players. They are going to do great things, but we felt like we were the more experienced team and that helped us down the stretch today."
Nebraska coach Connie Yori, while admitting that Baylor 6′ 8" freshman Brittney Griner was the focus of much of her pre-game planning, also credited the perimeter prowess of her squad.
"We are a team willing to take the three," she said and pointed out that even though star Kelsey Griffin did not have a high-scoring game, her contributions in other areas more than made up for her less than average scoring.
Griffin scored 13 points and 12 rebounds for Nebraska. Turner finished with a season-high 22 points, six rebounds , four steals and two assists.
For Baylor, Griner led with 18 points, nine rebounds and six blocked shots. Junior starting guard Melissa Jones did not play. She is still recovering from a stress reaction injury.
Nebraska's 12 three-pointers ties a season-high for a Baylor opponent. Baylor failed to make a trey for the first time since January 10, 2009 at Colorado.
Next up for the Big 12 teams: Baylor has the week off then travels to Missouri for a match-up Sunday, January 23. Nebraska returns home to face Kansas State on the same day.