Tulsa WNBA team keeps Shock name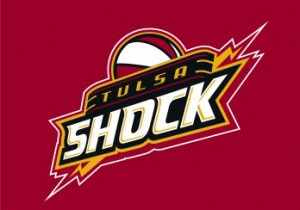 The new WNBA Tulsa franchise officially unveiled its identity Saturday with the announcement of the new team name, logo and colors–the Tulsa Shock with the colors black, red and gold. The logo features a basketball on top of "Tulsa Shock" with a lightning bolt through it.
"I think it's clear the Shock name resonated with fans because of the championship history it invokes, as well as the feelings of speed and power it brings," said the teams new president, Steve Swetoha. Our new name and identity fits perfectly with the style of play Coach Richardson brings to the team. It's the same name with a whole new meaning."
The "Tulsa" lettering has an Art Deco inspiration which was influenced by the city's rich history in Art Deco architecture.
The team, formerly the Detroit Shock, moved to Tulsa in October 2009. In November, the team decided on a short list of three potential names which included Fire, Tempo and Shock and then gave the fans an opportunity to vote for their favorite. Tempo finished second with 32 percent and Fire was third with 30 percent.
"The Tulsa Shock – I love it," said head coach Nolan Richardson. "Having an identity gets me more excited because I know we're one step closer to tip-off, and we'll look good when that day comes."
Tulsa will unveil uniforms this spring. The team opens the 2010 season at home on Saturday, May 15 against the Minnesota Lynx.