Unbeaten streaks and shocking upsets: Big 12 openers roundup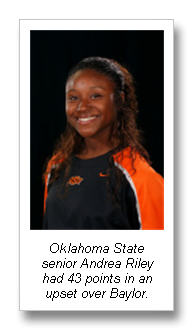 The first day of Big 12 conference play started out as a case of home court advantage for teams in familiar surroundings. Visiting teams fell in the first four games until Texas A&M broke the spell with a rout of Texas in Austin. Nebraska also won on the road to remain unbeaten when they beat Iowa State on the Cyclones' home court. The biggest shocker of the day came during a mid-afternoon contest between Baylor and Oklahoma State. The Cowgirls burned the Lady Bears with the hot shooting of senior Andrea Riley.
Kansas State (9-6) routs No. 24 Kansas (10-4), 59-35
Attendance: 5,799 (season-high), Fred Bramlage Coliseum (Manhattan, KS)
Kansas State began the day with a big win over Kansas. The Wildcats prevented the visiting Jayhawks from breaking a stretch of losses in Manhattan, Kan. K-State claims victory in the last five consecutive meetings in a row as well as 17 of the last 18 matchups in the series between the in-state rivals. Ashley Sweat led K-State with 24 points, while Jalana Childs added 15 and Taelor Karr 10. Senior guard Danielle McCray tallied 10 points and 12 rebounds for Kansas, her third double-double of the season.
Kansas State head coach Deb Patterson:
"I'm really proud of how our team played on both ends of the floor today. We showed that we'd really grown up with respect to knowing how to manage possessions and string together stops and run a purposeful offense. We understood that we were playing a good basketball team and our young people were extremely focused and just played extremely well today and it was a great victory against a great basketball team today."
Colorado (11-3) takes down Missouri (10-4), 65-48
Attendance: 2,406, Coors Events Center (Boulder, CO)
Brittany Spears scored a game-high 16 points in Colorado's win over Missouri. The Buffs improved to 11-3 overall (10-1 in the Coors Events Center) and had three other players in double figures: Chucky Jeffery and Courtney Dunn added 12 each and Alyssa Fressle contributed 11.
Colorado head coach Kathy McConnell-Miller
"It is great to open up at home and open up with a win. In the first half I thought that we were really good both offensively and defensively. We were very effective at guarding their inside play and taking away their strengths. However, in the second half, I thought Missouri really came out strong and got us in foul trouble. I am proud of the rebounding, and the turnovers, and the steals especially late in the game. We played man-to-man most of the game, and the only time we went zone was late in the game with Chucky Jeffery and Brittany Spears up top which made us very long, and that created a lot of steals and scoring through our defense. Overall, good performance, and I am happy sitting here 1-0 in the Big 12."
Missouri head coach Cindy Stein
"I think there is a big difference between playing well and wanting to play well. We made a good effort to make it close in the second half and did a lot of things well to cut their lead, but we had too many turnovers. Today wasn't a do or die game, but we have to look at the film and get better.
No. 14 Oklahoma (11-3) beats Texas Tech, 73-58 (12-3)
Attendance: 7,018, Lloyd Noble Center (Norman, OK)
Amanda Thompson scored 17 points and Danielle Robinson had 15 in Oklahoma's victory over Texas Tech 73-58. Kierra Mallard and Tilmila Martin had 14 points each for Texas Tech.
Oklahoma head coach Sherri Coale on Amanda Thompson:
"The thing is that Amanda is now a scorer and a threat that people have to take notice to her and play her honestly. And when they do, she can slice them up. Our guys have been really good at executing at the end and when Amanda knows what she is supposed to find, she can put the basketball there."
Texas Tech head coach Kristi Curry:
"I think any given night in this league anyone can be beaten. That is why (the Big 12) is so competitive and the number one league in the country. You have to give Oklahoma credit, they made a lot of plays down the stretch. With a little over three minutes to go it was a two possession game. We had some moments where we didn't compete at the level I thought we needed to as far as getting to the foul line and being aggressive. Close only counts in horseshoes and hand grenades, and I am not about that.
No. 23 Oklahoma State (13-2) stuns No. 5 Baylor, 78-65 (13-2)
Attendance: 3,717, Gallagher-Iba Arena (Stillwater, OK)
Senior guard Andrea Riley scored 43 points to lead No. 23 Oklahoma State's shocking upset of No.5 Baylor. Baylor squandered a first-half 10 point lead and Oklahoma state came up big limiting Baylor to just one basket in the first eight minutes of the second half. Brittney Griner had 16 points and 10 rebounds for Baylor. The Lady Bears committed 17 turnovers. The win was the Cowgirl's first against a top-five opponent since defeating No. 5 Baylor on February 5, 2008. Baylor guards Melissa Jones and Kimetria Hayden are injured and did not play.
OSU head coach Kurt Budke:
"This was a very big win for us today. Baylor is a favorite in the Big 12 and definitely one of the best coached teams in the country. When you can come out and go toe-to-toe with them and find a way to win you have to feel good about your day's work. I thought the kids came out and stuck with the game plan."
Baylor head coach Kim Mulkey:
"I thought the game was lost at the end of the first half and the beginning of the second half. We had a 10-point lead with two or three minutes to go in the first half and for whatever reason, too many freshmen on the floor, (Andrea) Riley, I don't know, we lost the lead. We came out in the second half and they got the crowd into it and we didn't respond."
Texas A&M (13-1) routs Texas (11-4), 91-70
Attendance: 5,940, Frank Erwin Special Events Center (Austin, TX)
The Texas A&M Aggies continued a winning streak over the Texas Longhorns with a win on the road in Austin. Texas A&M's Tanisha Smith had game-high 28 points. Danielle Adams, junior college transfer, tallied her first double-double with a career-high 10 rebounds and 18 points. The Aggies have won six in a row in the series between the two teams and eight of the last nine. Erika Arriaran led Texas with 14 points.
Texas head coach Gail Goestenkors:
"I was very disappointed overall. Congratulations though to Texas A&M, I thought they played really one of the best games of the year. I've seen a lot of tape on them, and this was one of their better games. They're a good team. They have real nice inside outside plays, they have contributions from everybody, and you can't really try to shut down one player. They got us back on our heels and they took advantage of it, so I think they beat us in every phase of the game. They shot a great percentage and just got great contributions from everybody. It was a tough game for us, but we know that we'll learn and grow from this."
Nebraska (14-0) remains unbeaten, tops over Iowa State (12-2) 57-49
Attendance: 9,066, James H. Hilton Coliseum (Ames, IA)
Nebraska senior Yvonne Turner led four Huskers in double figures with 14 points and seven rebounds in a 57-49 win over No. 23 Iowa State. Senior forward Kelsey Griffin had her sixth double-double of the year with 13 points and a game-high 11 rebounds. Junior guard Dominique Kelley contributed 11 points, including nine in the second half, to go along with five boards and two assists. Iowa State shot a season-low 36.4 percent from the field and hit a season-low two three-pointers. Freshman Jessica Schroll led the way for Iowa State on the glass with a career-high eight rebounds. Iowa State dropped to 12-2 on the year while having its 12-game home winning streak snapped by the Huskers.
Nebraska head coach Connie Yori:
"That is a great win for our basketball team. I think the single hardest thing to do is to win a game in the Big 12 Conference in women's basketball. That is the main reason why this is a great win. Normally, we say if you want to beat Iowa State in Ames, you better be able to hit shots. Tonight we won and we didn't hit many shots. Our defense was very good in the second half."
ISU head coach Bill Fennelly:
"First of all, Nebraska is an outstanding team. You can see why they are 14-0 and No. 12 in the country. Our team defended as well as we could. Offensively we struggled. Aus (Lacey) had no help. It's hard to win when you only have one person in double figures."