USA Basketball-WNBA to matchup in 2010 All-Star Game on July 10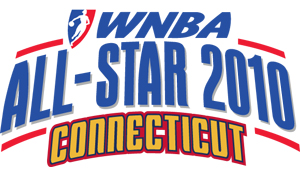 The WNBA announced the location and format for the 2010 All-Star Game today. The league joins Mohegan Sun Arena in hosting the game which will feature USA Basketball Women's National Team competing against a team of WNBA all-stars.
The game is slated for Saturday, July 10, 2010. It will be broadcast on ESPN with tip-off set for 3:30 p.m. ET.
The U.S. squad will be coached by Geno Auriemma, who will guide the national team. As the head coach at the nearby University of Connecticut, Auriemma has led the school's women's program to six national championships, including the 2009 title.
"We will showcase the greatest female basketball players in the world," said league president Donna Orender in a statement. "With Geno Auriemma leading the national team in his home state before one of the WNBA's most dedicated fan bases at a terrific venue, we're set for a great basketball experience."
WNBA ALL-STAR GAME HISTORY
July 14, 1999
Madison Square Garden (New York)
West 79 East 61
July 17, 2000
America West Arena (Phoenix)
West 73 East 61
July 16, 2001
TD Waterhouse Centre (Orlando)
West 80 East 72
July 15, 2002
MCI Center (Washington)
West 81 East 76
July 12, 2003
Madison Square Garden (New York)
West 84 East 75
July 9, 2005
Mohegan Sun Arena (Connecticut)
West 122 East 99
July 12, 2006
Madison Square Garden (New York)
East 98 West 82
July 15, 2007
Verizon Center (Washington)
East 103 West 99
July 25, 2009
Mohegan Sun Arena (Connecticut)
West 133 East 118
* No All-Star game was held in 2004 and 2008 due to the Olympic Games in Athens and Beijing. An exhibition game was held at Radio City Music Hall in the summer of 2004.