Baylor routs Colorado, Big 12 "not a league for the faint of heart"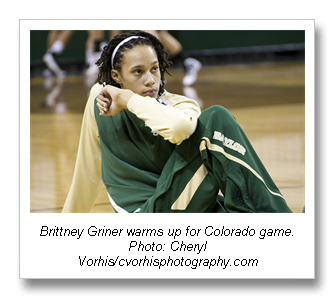 WACO, Texas – Even in the aftermath of a 76-42 rout at the hands of Baylor (17-5, 4-4) in Waco, Colorado coach Kathy McConnell-Miller looked ahead with steely optimism at the remainder of her team's season. Like every other head coach in the conference, including Connie Yori of the undefeated No. 4 Nebraska, McConnell-Miller made it clear that in the topsy-turvy Big 12, there is no time to dwell on losses and fortifying player confidence is essential.
"They know I believe in them and we are halfway through and it is eight down and there is eight to go," said McConnell-Miller when asked about her plans for Colorado (12-9, 2-6) after the loss. "I believe in them, this coaching staff believes in them. We have got strong character; we have got some young players that are being brought into this league and seeing what this league is all about."
Baylor coach Kim Mulkey echoed McConnell-Miller's comments about her own squad, one that is almost entirely made up of freshman and sophomores. She refers to her team as a "work in progress."
While the Lady Bears defeated the Buffs, in front of a hometown crowd of 7,350 fans with doting relatives in attendance for family night, they have had plenty of hard knocks of their own in the first half of conference play. Without the leadership of junior guard Melissa Jones who sat out the last two games with a leg injury, the team is learning some tough lessons as they are 4-4 in Big 12 play. But Baylor freshman sensation Brittney Griner stepped up to the plate after tough losses to Nebraska, Missouri and Texas, leading the Bears to their first road win at Kansas State last week.
"I knew we needed that road win," said Griner when discussing her evolving leadership presence. "Not having Melissa Jones on the court to talk and keep us going I knew I had to do something. Whether it was telling the team 'good shot' or 'take a shot,' I just felt like I should say something."
Highlights: Baylor vs. Colorado
Griner, who seems to set records each week in the Big 12, was unstoppable against the Buffs. She finished with 24 points, 11 blocks, and 10 rebounds for her second triple-double of the season. Mulkey took her out of the game for good with 3:36 left on the clock. She is the only Big 12 player to record a triple-double. During the Kansas State game, she recorded the first dunk in a Big 12 game.
"Brittney Griner is even better in person than I remember from her AAU days, and of course on film," said McConnell-Miller. "She really changed the complexion of everything tonight, particularly what we were trying to do."
Senior Morghan Medlock also rose to the occasion for Baylor. She recorded the first points of the game, the last points of the first half and the first points of the second half. She had 13 points and nine rebounds.
"It was an exciting night," said Medlock. "It was family night and we were coming off of a pretty good win at Kansas State and I just had a lot of momentum and was just excited. I have been practicing well and a lot preparation has gone into each game and I was just ready to play."
Now that the second half of the Big 12 season is underway, teams are keenly aware that each game will be a battle for position in anticipation of the conference tournament.
"This is not a league for the faint of heart," said McConnell-Miller. "This is not a league where you can allow one game or one shot or one bad night really take you out of what you want to do….You take a look at the standings and you take a look at where people are and anything can happen in this league, particularly when you are at home. We are going to bounce back and be ready to go. We are going to take some things from this game and turn them into some positives."
The Buffs travel back to Boulder to face No. 23 Texas at home on Wednesday, February 9. Baylor hits the road and meets No. 13 Oklahoma in Norman on the same day.
Around the Web