Day 2 of NBA All-Star Week: Snow, snow, snow and more WNBA players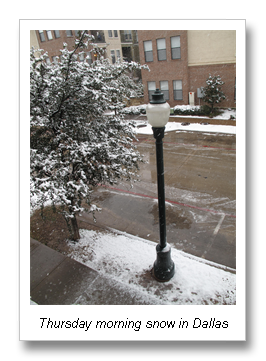 The east coast snowmageddon touched Dallas and hindered the travel plans of many athletes and league employees on their way to the DFW Metroplex. With temperatures dipping into the 30s and 40s early in the week, Thursday morning visitors woke up to snow on the ground. Ticha Penicheiro, a recent addition to the Los Angeles Sparks' roster after playing for the Sacramento Monarchs for 12 years, tweeted her disappointment at the weather:
Seriously?? I'm level 5 pissed rt now!! This is what I wake up to?? I feel like I'm in Russia! http://twitpic.com/12leaw
Former Los Angeles Sparks star Lisa Leslie made the rounds as part of the NBA Cares All-Star Community Caravan. She is the Vaccines for Teens spokesperson.
Leslie appeared at the William James Middle School in Fort Worth to urge parents of preteens and teens to discuss adolescent vaccinations with their family physicians.
The first day was a whirlwind for players Kara Lawson, Shemeka Christon and Ashley Robinson. The trio started off their day with multiple visits to day cares and schools with the NBA Cares Caravan and had media obligations lasting into the evening. Jennifer Azzi and Nancy Lieberman took part in Wednesday's community activities, joining the players at Vogel Alcove, a multi-purpose care center for homeless children.
Thursday's WNBA player activities include the NBA Jam Session, photo and video shoots, a youth basketball celebration and a wheelchair clinic with Penicheiro, Asjha Jones, Alana Beard, Scholanda Robinson and Marie Ferdinand-Harris joining in the festivities.
Former Monarchs Lawson and Penicheiro will host a live online chat from 2:00 – 2:30 p.m. CT (3:00 – 3:30 p.m. ET).
D-League Connections
Nancy Lieberman, a participant in Friday's celebrity game and coach of the new Frisco D-League team, will judge the D-League All-Star contest.
"I'm going to be a tough judge," Lieberman commented. "With Spud Webb as our President of Basketball Operations with the Frisco team, I have a very high standard to which I'll be holding the participants. I don't want to have to call Spud to come lace up his sneakers again."
Webb, who is five-feet-six-inches tall, won the NBA Slam Dunk contest in 1986, the last time the event was held in Dallas.
The Parties Begin
The deluge of party flyers began last night as event organizers handed out ad after ad to downtown visitors last night. As per usual, most of the flyers were covered with pics of scantily-clad women and words like "exclusive" "the biggest" "VIP room" "Ladies get in free until…" blah, blah, blah.
Last night's "private" Jam Session at the convention center overflowed with party-goers even as temperatures dipped to freezing.
The biggest parties start this evening with a bash at the beautiful Majestic Theatre headlined by a performance from Mary J. Blige. The price for a single ticket began at $500.
Police expect a mass influx of sex workers and strippers into the city and the anticipated arrival of the out-of-towners provided fodder for many news reports in print and on local news broadcasts. According to NBC DFW, Dallas police said the week "will be good practice for next year's Super Bowl in Arlington."
Related:
Around the Web: