Day 3 of NBA All-Star Week: Snow? What snow? Dallasites ignore the weather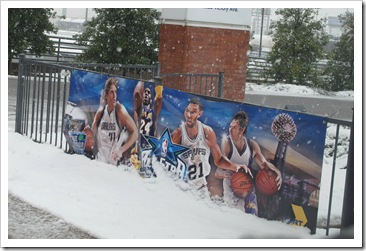 DALLAS—Day three of NBA All-Star Week looked like a vision of New England winter splendor, except it was North Texas. As the weather began to sink into the mindsets of out-of-towners and residents alike, the annual basketball love fest continued with no cancelled events or schedule changes. In fact, by the time Friday evening rolled around, Dallas residents seemed to be oblivious to the weather as they packed the convention center to the gills for the evening's Jam Session of activities and the Celebrity Game.
The day began shortly after the crack of dawn for attendees to the exclusive, invite-only Tech Summit at the Ritz-Carlton. NBA TV's Ahmad Rashad hosted the event. Other participants included:
John C. King, Anchor & Chief National Correspondent, CNN
Wolf Blitzer, Anchor, CNN's The Situation Room
Soledad O'Brien, Anchor & Special Correspondent, CNN
Dave Alberga, Chief Executive Officer, The Active Network, Inc.
Irving Azoff, Chief Executive Officer, Ticketmaster Entertainment
Erik Bahr, Director of Sales, Facebook
Charles Barkley, TNT NBA Studio Host, Turner Sports
Chris Bosh, Forward, Toronto Raptors
Alan S. Cohen, Vice President, Enterprise Solutions, Cisco Systems, Inc.
Greg Creed, President & Chief Concept Officer, Taco Bell Corporation
Mark Cuban, Chairman, Landmark Theatres, Co-Founder, HDNet Films & 2929 Entertainment
James L. Dolan, Executive Chairman, Madison Square Garden, President & Chief Executive Officer, Cablevision Systems Corporation
Daniel Gilbert, Majority Owner, Cleveland Cavaliers, Founder & Chairman, Quicken Loans
Bob Johnson, Majority Owner, Charlotte Bobcats
Earvin "Magic" Johnson, Chairman & Chief Executive Officer, Magic Johnson Enterprises
Staci Kramer, Co-Editor & Executive Vice President, ContentNext Media
John Kosner, Senior Vice President & General Manager, ESPN Digital Media
David Levy, President of Sales, Distribution & Sports, Turner Broadcasting System, Inc.
Benjamin Ling, Senior Director, Product Management, YouTube / Google
Jon D. Litner, President, Comcast Sports Group
CNN anchor Anderson Cooper, scheduled to attend according to Los Angeles Sparks player Marie Ferdinand-Harris, was a no-show because he was in Haiti. Ferdinand-Harris, the only Haitian player in the WNBA, wanted to talk to him about the current situation in the country. She did, however, get to chat with Wolf Blitzer who she said was very interested in hearing her thoughts on the aftermath of the massive earthquake that hit Haiti last month.
Los Angeles Sparks guard Ticha Penicheiro and her former Sacramento Monarchs teammate Kara Lawson also attended the summit. Both tweeted about the confab after it was over as the organizers asked participants not to tweet or text during the event.
The Dallas Morning News blogged about it and reported that afterwards Charles Barkley responded to a question about some NBA players having access to social media tools:
"Giving these guys that stuff is like giving an insane guy a gun."
Filmmaker Spike Lee also attended the summit.
Naismith Memorial Basketball Hall of Fame Finalists
Shortly before noon, the Naismith Memorial Basketball Hall of Fame held a press conference in Dallas to announce the list of players, coaches and teams as finalists to be considered for election to the Hall in 2010. The women's committee finalists included:
Cynthia Cooper – Player, competed at the University of Southern California where she won two NCAA Championships and participated in three Final Fours. As a member of the Houston Comets, she won four WNBA Championships and was named WNBA Finals MVP with each title. Cooper was named to three WNBA All-Star teams and was also selected WNBA regular season MVP twice. Cooper won an Olympic Gold Medal in 1988 and an Olympic Bronze Medal in 1992 to go along with two FIBA Women's World Championship Gold Medals. She is the head coach of Prairie View A&M University, 45 miles northwest of Houston, Texas.
Harley Redin – Coach, is recognized as one of the greatest coaches in basketball after leading the Wayland Baptist University's women's team from 1955 through 1973.  He compiled an overall women's coaching record of 431-66 (.867), including a 76-game win streak from 1955 through 1958 while leading Wayland Baptist University to two undefeated seasons ('56, '57). Redin captured six AAU women's national championships (1956, '57, '59, '61, '70 and '71), served as coach the USA women's national team and, earlier in his career, coached the Wayland Baptist men's team (1948-57). Redin was inducted to the Women's Basketball Hall of Fame in 1999.
All-American Red Heads – Team, was the first women's professional basketball team. The Red Heads were founded in 1936 in Cassville, Missouri and competed in games all over the United States and Canada and became the first American team to play in the Philippines, regularly playing more than 200 games a year during six decades (1936-86). The team was often compared with the Harlem Globetrotters as they used serious play and comedic routines to entertain the audience while they promoted women's basketball.
Fashionably Meet the Press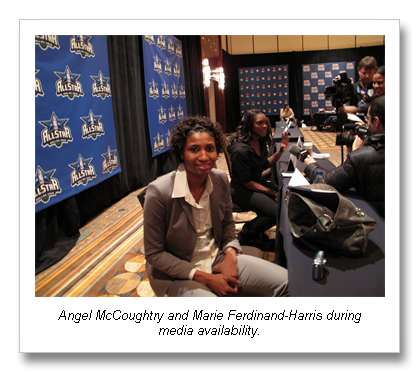 NBA security and Dallas police officers put the Hyatt Regency in serious lockdown mode as it was the site of media interviews for players. Even those staying at the hotel unaffiliated with All-Star weekend had to go through a front door ID check before being allowed to even approach the check-in desk. Security guards stamped the hands of those allowed to enter. Each time an NBA player entered the lobby, cameras whizzed and kids immediately surrounded the athletes and held up All-Star balls to get signed. Meanwhile New York Liberty forward Shameka Christon nonchalantly walked around the lobby area minding her own business without interruption.
Several recently arrived WNBA players spent the morning at they Hyatt in fashion shoots. Nicole Powell, Angel McCoughtry and Marie Ferdinand-Harris came into the media room at the Hyatt Regency in their fancy attire. Nicole, fresh from a flight from Turkey the day before, had straightened hair and wore a mid-length lavender dress and heels. Ferdinand-Harris opted for a fashionable blouse and trousers while McCoughtry sported a pantsuit.
The players were at the end of the room at the Haier Shooting Stars team tables.
The other tables in the room were reserved for individual NBA All-Stars who garnered media frenzies of photographer's camera flashes, television crews and several foreign reporters.
The media availability for the women ended at 12:30 p.m. and they had to rush and change to catch their 12:45 p.m. shuttles to their assigned NBA Cares Day of Service location. They joined the families of NBA/WNBA employees at sites around the Metroplex building playgrounds, painting classrooms and other service activities. WNBA president Donna Orender made the trek to Summit International Preparatory school in Arlington, a short walk from Cowboys Stadium. The stadium, known locally as "the starship" and "the stadium on steroids," already had the All-Star banner hung on its huge frame.
Summit, is a college prep charter school and students gain admittance via a lottery system. A dedicated army of parents and teachers were on hand to help build a playground coordinated by KaBOOM!.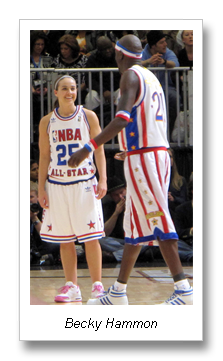 Seattle Storm Center Ashley Robinson, Ferdinand-Harris and basketball legend Lynette Woodard also volunteered at the school along with Dikeme Mutumbo, Tim Duncan, Chauncey Billups, Daequan Cook, Kevin Durant and Dwight Howard. After the playground was nearly complete, Cook adorned a brand new pair of Adidas and promptly stepped into a puddle of mud. His reaction: "I'll call my Adidas rep to send me another pair." The shoes still had tags on them.
Robinson came to the event in cute pair of green suede boots. However, instead of soiling her shoes, a volunteer offered to wrap them in plastic for her. She then joined Duncan and Orender in erecting a playground sign.
Jam Fest Mania
Back in downtown Dallas, the convention center was jam packed by late afternoon. Thousands of parents took advantage of the indoor basketball-themed playground and the opportunity for their kids to meet their sports idols. On the main floor, outside of the center court where the Celebrity Game took place, it was pure mayhem—a sea of wide-eyed kids playing on the seemingly never-ending rows of attractions or participating in hoops skill challenges.
The evening's celebrity game, another well-attended event, began with the first made shots from the head coach of the new Frisco D-League team Nancy Lieberman. Her female cohorts included teammate Atlanta Dream forward Angel McCoughtry and on the West team, San Antonio Silver Stars guard Becky Hammon.
But the action did not end after the game. Walking back out the entrance of center court, one could see an insanely long line of people waiting to enter the next event, the D-League Dream Factory showcase. And the indoor amusement park attractions were still filled with youngsters having the time of their lives.
Related:
Around the Web: