Nebraska women clinch Big 12 regular season title
Video: Post-game press conference | Nebraska vs. Oklahoma Final Box Score | Quotes |  Notes | Attendance: 7, 756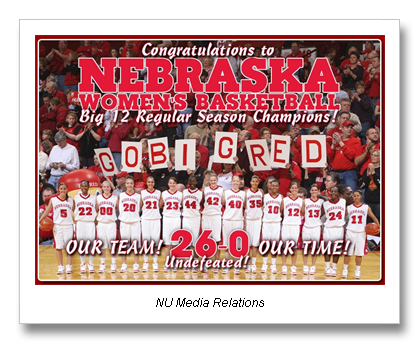 Nebraska continued its winning ways to take the Big 12 regular season title with a win over No. 11 Oklahoma Wednesday night in Norman. The third-ranked Huskers (26-0, 13-0) swapped the lead with Oklahoma (19-8, 9-4) several times during the game but seniors Cory Montgomery and Kelsey Griffin led a late surge to victory.
Griffin earned her 16th double-double of the season with 30 points and 13 rebounds.  Forward Montgomery added a season-high 24 points.
"This was an accumulation of a lot of hard work by not only all the players on this team, but the teams and players who have come before them," said Nebraska head coach Connie Yori. "This game was a microcosm of our season. This team is the most mentally tough team I have ever coached, and the best practicing team I have ever coached, and the hardest working team I have ever coached. That all came together in the final 3:30 of that basketball game. Our players deserve all the credit, because they earned this win and this title."
The win marked the first-ever women's basketball Big 12 conference title for Nebraska. They won the Big 8 title in 1988.
Griffin, who sat out the entire 2009-09 season, gave credit to her teammates.
"I love my teammates for giving me the opportunity to play with them every day," Griffin said. "This is a great moment for our team and this program. We have come along way together. We have been focused all season on our next practice and our next game. Tonight we are going to enjoy this victory. We have earned that. Tomorrow, we are going to be ready for our best practice of the year, because Saturday's game is the biggest game of the year."
Abi Olajuwon led Oklahoma with 16 points and 14 rebounds, while Amanda Thompson and Danielle Robinson each added 15 points.
Oklahoma head coach Sherri Coale praised Nebraska's late game play.
"They just played with great urgency and they were tougher, stronger and just better than we were down the stretch," said Coale. "You have to give them credit because they made plays."
Around the Web:
Nebraska coach Connie Yori at the postgame press conference: