Oklahoma Governor Brad Henry mentions Tulsa Shock in speech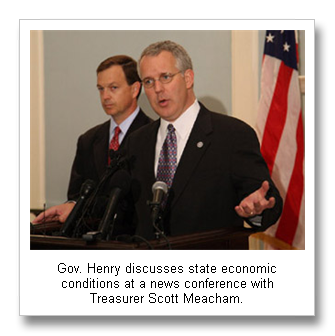 Oklahoma governor Brad Henry gave his eighth and last state of the state address on February 1 to the state legislature and mentioned the WNBA's Tulsa Shock in an optimistic spiel about Oklahoma's economic and urban growth.
In his concluding his speech he said:
Our cities are growing, bustling with new businesses, entertainment and the arts. The BOK Center in Tulsa and the Ford Center in Oklahoma City are ranked among the top entertainment venues in the country. We have the NBA in Oklahoma City, and the WNBA in Tulsa. Top-flight museums, art galleries, restaurants and festivals – even a School of Rock – have cast a new and distinctive spotlight on our state.

Dust has given way to destiny. Oklahoma is emerging as one of the most dynamic stories of America in the 21st century. It is a tale of fortitude and fearlessness, of innovation and ingenuity, of family and unflagging faith.
Tulsa head coach Nolan Richardson is preparing for coaching the new team with the help of his former Arkansas assistant, Wayne Stehlik. Richardson led the Arkansas men to a national championship in 1994.
The Shock begins its season at home on May 15 against the Minnesota Lynx.
Related: