Tulsa Shock to sign former track star Marion Jones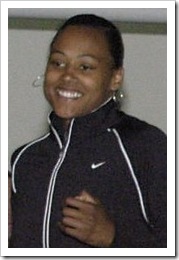 Late Tuesday evening the Tulsa Shock hinted via Twitter.com that the team had a big announcement for Wednesday.
Big news from coach Richardson tomorrow at 10 am! Watch the news!
Nearly an hour later, WNBA president Donna Orender tweeted that she was in Tulsa.
Just checked in in Tulsa – tuned in to sportsnight Oklahoma on tv and they were previewing the high school girls tournament – gotta love it
Shortly afterwards, news reports revealed that the cryptic message from the Shock was in reference to the signing of disgraced American sprinter Marion Jones who has been working her way back into shape with the hope of starting a pro basketball career.
She trained with the new head coach of the San Antonio Silver Stars, Sandy Brondello and assistant Olaf Lange this past winter. She was in Tulsa recently working out with the Shock's head coach Nolan Richardson.
The news conference announcing Jones' signing takes place at 10 a.m. CT in Tulsa.
Jones is no stranger to basketball. She helped North Carolina win the NCAA basketball championship in 1994 when she was just a freshman. She red-shirted her sophomore basketball season to concentrate on track.
She was drafted in the 3rd round of the 2003 WNBA Draft by the Phoenix Mercury.
After admitting in 2007 that she took illegal steroids before the Sydney 2000 Summer Olympics, Jones was sentenced to six months behind bars. She began serving her sentence on March 7, 2008. She left prison on September 5, 2008.
The Shock commence the 2010 season May 15 at home against the Minnesota Lynx at Tulsa's BOK Center.
Related:
Around the Web: