Two sisters, one award. Nneke talks about Chiney, the 2009-10 Gatorade Player of the Year
Already known as a dynamic duo of women's basketball, sisters Nneka and Chiney Ogwumike added to their resume of hoop accomplishments with the younger sibling earning this year's Gatorade High School Girls Basketball Player of the Year award. Nneka won the honor two years ago.
Chiney received the news from her sister, a standout forward at Stanford, via Skype yesterday. She will join Nneka at the Pac-10 powerhouse next season. Both are products of Cy-Fair High School in Houston, Texas and were highly sought after recruits.
Nneka, in a Q&A with HoopFeed.com, talks about her sister winning the award and Stanford's run in the NCAA tournament.
Q. What were your first thoughts when you found out that your sister won the award?
A: I wasn't in the least surprised, but I was definitely excited! I know that she has been looking forward to this since I was awarded with this honor two years ago. she has worked very hard and deserves it.
I know that I was more interested in how it would be presented to her because she did a really good job of shocking me with the wonderful news last time!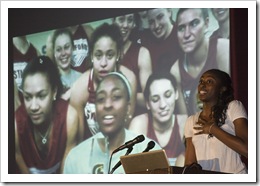 Q: Are you surprised at all by her success?
A: I cannot say that I am. Chiney is an incredibly hard worker and has accomplished a lot on her own. Most people associate us as a 'dynamic duo,' but I think everything she has achieved is a result of all the determination and discipline she has instilled into her character!
Q: What do you think have been the key ingredients to the success of you and your siblings on the court and in the classroom?
A: It's definitely the family support. My parents have long since emphasized excellence. They have taught us that no matter what it is that you do, discipline and determination are the keys to success. And with that, our family is almost like a huge support system.
Q: Does Chiney receiving this award give you any more motivation in the NCAA tournament?
A: Chiney winning this award makes me very proud of her. So why not reciprocate that and win progress through the NCAA tournament (something I know she would be very proud of)?
Q: How do you feel about your teams chances in going all the way to the Finals of the tournament and what distinguishes this year's team from last?
A: I feel very confident in our whole program. We have been working very and are still getting better as the days come. We stay focused and are taking things one day at a time. I think that focused mentality is what drives our success. I also believe that this year's team is almost 'wiser' in a sense. We have more experienced players who know what March Madness is all about.
Q: What are you most looking forward to next year when your sister joins you in Palo Alto?
A: Everything! Chiney is my best friend and experiencing Stanford with her is going to be very exciting and hopefully very successful!