No waiting for Ann Wauters this summer, Belgian center to sit out season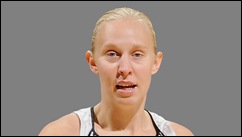 Last year San Antonio Silver Stars fans had to wait half a season to see Ann Wauters in uniform. This year the Belgian center will not play at all for the WNBA team. She decided to sit out the 2010 season.
"I have decided not to return to the WNBA this summer but believe me when I say that this was not an easy decision," said Wauters. "I have always loved being in San Antonio with my amazing teammates, great coaching staff and the best fans in the League in a exciting city. So why not return? I have been playing professional basketball for 12 years now and I feel like I haven't taken the time to enjoy life with my family. So it's time for me to take a break and spend a summer in Belgium."
Ann joined the Silver Stars in 2009 after playing for Cleveland and New York. She averaged 12.9 points, 5.6 rebounds and 1.1 assists per game and was instrument in helping San Antonio reach the playoffs for the third consecutive season.
"Ann is a valued member of the Silver Stars family and we will look forward to her return in future years," said General Manager Dan Hughes.
Wauters plays overseas in Europe and her team UMMC Ekaterinburg in Ekaterinburg, Russia will play in the FIBA EuroLeague Women Semifinals. They will face Russian rival Spartak Moscow Region in a best-of-three series beginning April 9. UMMC also has reached the semifinals of the Women's Superleague A playoffs; they will face Nadezhda (Orenburg, Russia), also in a best-of-three series, beginning  April 15.