Spartak Moscow EuroLeague champions again, Taurasi MVP again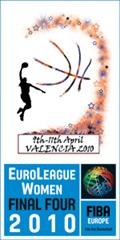 With its star-studded cast led by Diana Taurasi, Spartak Moscow Region earned its fourth straight EuroLeague title over the weekend beating Spain's Ros Casares 87-80. The Final Four featured big names on other teams like Cappie Pondexter, Candace Parker, DeLisha Milton-Jones and Deanna Nolan.
For the second year in a row, Taurasi earned the EuroLeague Women Final Four MVP award. In the semifinal final she had 37 points, 12 rebounds and six assists. In the final, she had 29 points and six rebounds.
Spartak surged from a deficit on the strength of an incredible streak by Taurasi coupled with the rebounding prowess of Sylvia Fowles in the semifinal game against UMMC Ekarterinbrug. In the final, it was more of an all-around team scoring effort with Janel McCarville giving the team a boost with an impressive 20 points, 13 rebound haul.
DeLisha Milton-Jones led Ros Casares with 19 points.
The weekend's complete results:
Final
Spartak Moscow Region 87 Ros Casares 80
3rd place – 4th place game
UMMC Ekaterinburg 84 Wisla Can-Pack 50
Semifinals
Spartak Moscow Region 87 UMMC Ekaterinburg 79
Ros Casares 86 Wisla Can-Pack 57