The legacy of Marques Jackson: "He never left a girl behind"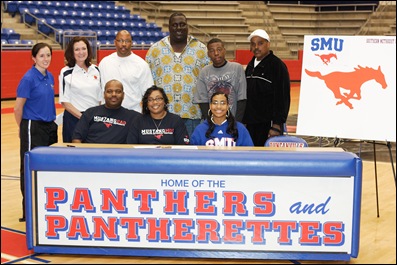 Marques Jackson attends the signing of Akil Simpson to SMU.
(Photo courtesy of LaMonithal Harris-Simpson)
DALLAS — On a rainy weekend in Dallas, mourners gathered to celebrate the life of Marques Jackson, 46, the founder of DFW Elite, one of the premier girl's basketball clubs in the nation. Players who were scheduled to play in the NCAA-certified 1st Annual DFW Elite Texas Spring Invitational on Saturday, April 17 were able to attend Jackson's funeral instead as all games were canceled.
Jackson's influence was far and wide and while his efforts helped launch many athletes into successful college and professional careers, including his daughter Tiffany (a forward for the WNBA's New York Liberty and a former Texas standout), parents and coaches were among his biggest cheerleaders.
"Marques cared deeply about giving young girls the opportunity to learn and grow through the game of basketball," said Texas coach Gail Goestenkors to the Austin American-Statesman. "We all had great respect and admiration for Marques, and his programs were always run in a first-class manner. His legacy will live on through the many lives he has touched."
LaMonithal Harris-Simpson's daughter Akil, a senior at Duncanville High and one of the nation's top high school forwards, played on the DFW T-Jack Elite squad. Her teammates included the top prep point guard Baylor-bound Odyssey Sims and another future Lady Bear, Makenzie Robertson, daughter of the university's women's basketball coach Kim Mulkey. Simpson is headed to Southern Methodist University in the fall and Jackson was most proud of her academic achievements and full scholarship at the expensive, private university.
"It was a pleasure to have Coach Jackson at Akil's signing day," said Harris-Simpson. "He made the statement. 'This is what it is all about. This is why I do what I do.' We will forever be grateful to Mr. Marques Jackson and the DFW Elite Family for all [they] have been in our lives."
Harris-Simpson lauded his commitment to girls from all economic backgrounds.
"He never left a girl behind because the girl or family didn't have the money," she said. "He would say 'Just get on the bus, we'll work it out.' I am laughing and crying all at the same time because I can see this statue of a man become childlike and always putting the needs of the kids first."
Baylor assistant coach Damion McKinney was among the early organizers of DFW Elite. While McKinney's workouts tested the physical limits of some young athletes, Jackson was always there to encourage the girls when they felt they could not keep up.
"Skills with Coach Damion were torture," said Harris-Simpson. [Akil] cried every practice for the first month or so. Coach Marques Jackson always encouraged her and advised her to 'hang on in there you're doing fine, you just need to get used to playing at this level.' She loved Coach Jackson. He allowed her to be exposed to the basketball giants."
Lisa Bodine, a national evaluator for ESPN's HoopGurlz, echoed Harris-Simpson's sentiments.
"He was in grassroots basketball for all the right reasons," said Bodine. "It was never about him, it was always about the players. Marques will be missed by the entire basketball community and we need to ensure that his legacy lives on."