Training camp updates: Veterans still abroad, retirements, releases and no-shows
A few days into training camp and roster roulette begins, players from overseas begin trickling back stateside and media days commence.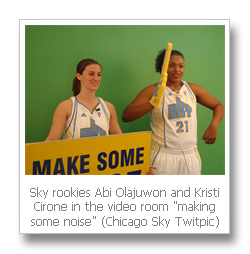 Scary travel delay
Minnesota Lynx forward Charde Houston is on her way to Atlanta then to San Diego to visit family before heading to Minneapolis. After a grueling ordeal on a flight that was diverted due to a bomb threat from a delusional passenger, Houston and other passengers are back en route to their final destinations.
Veterans still overseas
In Russia, Superleague Finals are underway and Los Angeles Sparks forward Candace Parker is lighting it up for UMMC Ekaterinburg. Tuesday she scored 43 points against Spartak Moscow Region.
In Turkey, most of the Indiana Fever's star players are still in action in the Turkish League playoffs.
The absence of so many valuable veterans means rookies and non-draft training camp invitees still have several days to impress coaches in the hopes of making a final roster.
No-shows
Two players listed on rosters are already out of the running. Alicia Gladden on the Connecticut Sun roster and Tijana Krivacevic listed for Seattle are not expected to show up for training camp.
Release and retire
The Atlanta Dream released veteran free agent Jennifer Lacy this week. She is a four-year veteran and a graduate of Pepperdine. She was the first player from the West Coast Conference (WCC) to make a WNBA roster when she signed as a free agent with the Phoenix Mercury in April 2006. She averaged 4.9 points and 3.1 rebounds in her rookie season. In 2007, when the Mercury won its first championship, she averaged 1.8 points and 1.0 rebound in 4.7 minutes per game. In 2008, she played in 33 games for the Dream, including 22 starts. She Averaged 5.7 points, 2.7 rebounds and 0.8 assists per game. Last season she averaged 3.0 points and 2.2 rebounds per game.
Seattle Storm guard Chelsea Newton announced her retirement Tuesday.
"I've gone through six surgeries in my career and my body is beat-up," said Newton, a five-year league veteran. "I can't continue to play the way I need to play, at a high level, being in the pain that I'm in. It's just not the same for me anymore. I want to be able to walk when I'm 40. It's time for me to move on."
The Storm selected Newton in the 2009 Dispersal Draft of Sacramento Monarchs players. A member of the 2005 Monarchs WNBA championship team, Newton averaged 5.1 points, 1.8 rebounds, 1.6 assists and 1.0 steals in five WNBA seasons.
Media days
The Chicago Sky and the Connecticut Sun held media days this week. Photo galleries from the event:
Seattle Storm top draft pick Alison Lacey gives an interview to King 5: