UConn champs again, 78 straight wins and another title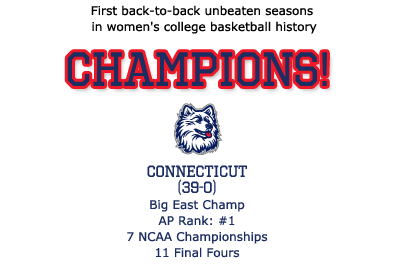 Connecticut 53, Stanford 47 Recap | Box
POSTGAME QUOTES
Connecticut head coach Geno Auriemma
On what it feels like to be in the same company as John Wooden:
"There is no company. He has no company. He's a pretty special coach and special guy. I'm just thankful for this group of kids because I know how hard they've worked and how much they've put into this. I think for the first time all year, they felt a little bit of pressure tonight. I'm just happy to be their coach."
Junior forward Maya Moore
On how difficult it has been to maintain the 78-game winning streak:
"It's so hard to be consistent every single day and come out and practice as hard as we do. Everybody has had doubt the whole year, questioning us, and we're just glad we got what we've been working for."
Freshman Guard Kelly Faris
On winning her first national championship:
"It is one of those things that words can't describe. Obviously we started out not too good and to come back and pull it out in the end, it was a fun game."
Sophomore Guard Caroline Doty
On the feeling of cutting down the net:
"You can't explain it. You just want to hug everybody around. You can't wipe the smile off your face at all. It is unbelievable. I will remember it for the rest of my life. I was trying to take it all in – the fans reaction, my teammates, the coaches, just everyone – and thinking about how we got to this moment, trying not to let it go and never forget it."
On Vice President Biden being here to watch:
"It is unbelievable. You don't realize who all is here watching you and then to get a prospective on who is watching and the opportunities that arise. Meeting him on the court afterwards was unbelievable. His wife is from the Willow Grove area where I am from, so that was a fun fact I learned tonight. It was a great feeling."
More quotes | Notes | UConn Game Gallery