Alexis Hornbuckle optimistic about Tulsa, happy for the return of DeMoss to Tennessee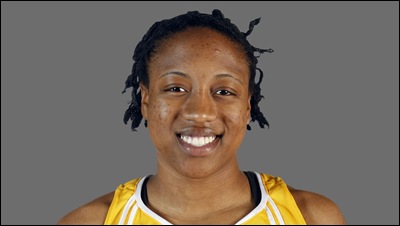 As the only Tulsa Shock player with both college and WNBA championships under her belt, guard Alexis Hornbuckle is no stranger to success on the court. However, this season she faces the daunting task of melding with a cast of teammates from a defunct team, other veterans, rookies and a legendary yet WNBA-inexperienced coach.
Tulsa started its inaugural season with two losses at home, the first to the Minnesota Lynx and the second to the San Antonio Silver Stars. The newest WNBA franchise maintained tight margins and kept their opponents within close reach. This past Sunday evening, they avenged their first defeat of the season overcoming Minnesota, 94-82, on the Lynx home court.
Even with the 1-2 start and the next game against the reigning champion Phoenix Mercury, Hornbuckle is optimistic about the team's season. However, like her former Shock teammates Kara Braxton, Plenette Pierson and Shavonte Zellous, she was apprehensive about playing in the Sooner state.
"The people are very nice and welcoming and the food's good," she says of Tulsa but admits her knowledge of the city was severely lacking before she arrived in late April. She wondered how many people lived in Tulsa and if there was anything to do in the town with the famous Art Deco heritage.
"I knew nothing. I was ignorant," she says of her previous knowledge of the city.
Since training camp and the first few games, practice has been a "lot of hard work" with the team learning head coach Nolan Richardson's fast-paced "40 minutes of hell" system of play. And, there were a few things about Richardson that surprised Hornbuckle.
"He has a sense of humor," she says. "He's very set in his ways and how he wants things done but at the same time you can go talk to him."
When it comes to improving the team's performance, Hornbuckle feels the team showed "a lot of good things" during their one preseason game against Seattle and their home opener against the Lynx. But, of course, she pinpointed some crucial areas that need improvement if the team expects to win games on a regular basis.
"We still had the same amount of turnovers in both games, 22, which is too much," she said when talking about the team's performance. "I just think we have to become more efficient and after watching film we need to step up our intensity….At times we showed exactly what we've been practicing and what we are capable of, so we need to do that on a consistent basis."
In the win over Minnesota, the Shock collected 15 steals, leading to a 30-6 advantage in fast-break points. The steal total is the WNBA's best for a regulation game so far in 2010.
When speaking about her alma mater, women's basketball powerhouse Tennessee, Hornbuckle's voice changes to a more buoyant tone. Recently, former Tennessee associate coach Mickie DeMoss rejoined the Lady Vols after being gone for seven years, first as the head coach at Kentucky and then as an assistant at Texas.
"Once a Lady Vol, always a Lady Vol," says Hornbuckle of DeMoss's return. "You can leave but you're still bleeding orange."
She has high hopes for her Lady Vols, the reigning SEC champions, in the coming season with DeMoss back in Knoxville alongside head coach Pat Summitt. During DeMoss's previous 18 seasons in Knoxville, the Lady Vols went to 13 Final Fours and won six NCAA Championships.
"She was such a big part of the championships. [Mickie] and Pat, they did great things together and they're still great friends," says Hornbuckle. "So for her to come back, it's just great. I love Mickie DeMoss she's a great person. She's knows what she's doing. It's only going to mean good things for the Lady Vols this year.
In the near future, Hornbuckle is preparing for the Mercury's visit to Tulsa then a matchup against the Indiana Fever, the reigning Eastern Conference Champions, on Saturday.
She hopes fans of the previous incarnation of the team continue to follow the Shock even though they are no longer in Detroit.
"I just hope that they're still Shock fans. We still love them even though we're in Tulsa."
Next up for the Shock:
Tuesday, May 25 vs Phoenix, 6:00pm, CT, ESPN2
Saturday, May 29 vs Indiana, 7:00pm, CT, Live Access