Another Tulsa signing on the horizon: Shock trade Shavonte Zellous to Fever, Indiana waives Allie Quigley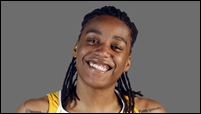 The Indiana Fever acquired second-year guard Shavonte Zellous from the Tulsa Shock, in exchange for a 2011 second-round draft pick. To accommodate the move on the Fever roster, Indiana waived Allie Quigley. A 5-10 guard from the University of Pittsburgh, Zellous averaged 4.0 points and 16.8 minutes per game in four appearances with Tulsa this season. Her first game with the Fever is Saturday when Indiana plays at Tulsa.
According to sources, Zellous was frustrated at Tulsa and welcomed the trade. She was a first-team selection on the WNBA's All-Rookie Team last season while playing for the Shock in Detroit. She ranked second among rookies with 11.9 points per game.  She was instrumental in leading the Shock to the Eastern Conference Finals against the Fever, averaging 15.6 points, 2.8 assists and 1.2 steals per game in five playoff appearances.
Speculation is that seven-year veteran Plenette Pierson will be the next player to leave the re-located franchise. Pierson is the winner of the league's first ever Sixth Woman award (2007) and a member of the 2006 and 2007 Detroit championship teams.
The Shock is set to sign another player soon. Former Seattle Storm forward Ashley Walker is in Oklahoma training. The Storm released the 6-1 Cal graduate and 2009 first-round draft pick the day before the regular season began.
Tulsa native and 6-5 center Iciss Tillis is also said to be in the mix for a Shock signing. The team cut her from the squad on the last day of training camp, May 14.
Around the Web: