Game Thread: Washington at Los Angeles, Friday, May 28, 2010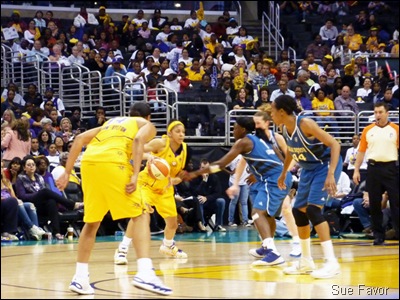 As the Sparks are warming up before the game, they all seem pretty loose and relaxed. There are plenty of hand slaps and even a few smiles. The Mystics all seem like they're having a good warm-up too.
A small group sings a nice rendition of the anthem, and as they're belting out "braaaaave!" and the spell is breaking around the nicely-packed arena, Candace Parker makes the sign language "I love you" sign with her left hand, towards the singing group.
After that there is a bit more warm-up—he most entertaining of which is Betty Lennox and Parker going through a ghost play. Lennox is the defender and Parker practices getting around her and/or stepping backward for a fade-away.
I had forgotten Marianne Stanley was an assistant coach at Washington. I wonder how she feels being back at Staples.
The players walk towards their benches as arena staff are playing LMFAO's "I'm in LA, trick." Sparks co-owners Kathy Goodman and Carla Christofferson take to the court to welcome fans back for the 14th season. Goodman promises the team will go all the way. Lisa Leslie is in a broadcasting booth somewhere—they put her on the big screen for a minute—to applause. Parker also takes the mic and welcomes fans.
The game gets underway at 7:39 p.m. (Nothing in Los Angeles is ever on time). Katie Smith, Lindsey Harding, Nakia Sanford, Crystal Langhorne and Monique Currie start for the Mystics, while it's Ticha Penicheiro, Noelle Quinn, Tina Thompson, DeLisha Milton-Jones and Parker for the Sparks.
Parker wins the tip. She is on fire from the get-go, hustling the ball down, scoring and making assists. She is so lean and so fast. I'm still getting used to her new physique. I predict she will score at least 25 tonight,.
The Sparks kids are now all wearing Parker jerseys. It is her team now.
Chastity Melvin is talking to referee Michael Price while waiting to get into the game. The players and the refs all know each other by name. It is a little odd.
Tiffany Stansbury was in the game for the Sparks for a brief minute, but passed the ball out from under the basket. Then when she put up a weak layup that bounced out, she was out of the game. She needs to develop more confidence.
Currie is ballin'. So is Milton-Jones. Both teams have rebound-fests, getting three touches before the last put back goes in. It's 20-16 Los Angeles at the end of the first.
At the 6:58 mark, the Sparks are up 26-16. Mystics call a timeout. About a minute and a half later, Katie Smith hits a long two, and Coach Julie Plank tells her good job. This seems to ignite the Mystics; they're catching up. Parker catches a pass on a fast break and lays it up and in, but then the Sparks' defense relaxes too much and the Mystics score.
Finally, at the 4:01 mark, Sparks coach Jen Gillom sends in some subs.
Parker is going nuts. She's working with Lennox on a pass play one minute, then on the next possession she's taking on Katie Smith one-on-one, and winning. She's also stealing the ball. She's ridiculous, and it is primarily because of her that the Sparks end the half up 44-30.
Milton-Jones comes out of the locker room after halftime with a pained expression on her face. One of the assistant coaches is lightly beating on her mid- and lower back during the huddle, and she goes in. But she comes back out within 30 seconds, and goes to the end of the bench and sits on a foam roller. What's up with that?
Penicheiro goes coast to coast for the score, but in a few minutes she's out too, replaced by Kristi Toliver. Penicheiro stays out for most of the rest of the half, too.
In the meantime, Lindsay Wisdom-Hylton has apparently had a Red Bull at halftime, because she's suddenly everywhere in this quarter – with the put-back, with the shot. The crowd is eating it up. The quarter ends in stylin' fashion: Smith swishes one of her trademark three's with less than 10 seconds to go, but Toliver puts up her own trey, which falls through the next as the buzzer sounds. Los Angeles is up 66-56.
The Mystics start sawing at the lead in the fourth. It is a really physical game, with both teams bodying each other up. At one point Parker is called for a BS foul, and she's so irritated by it that she's still protesting to Price as she's standing on the side of the key waiting for the free throw to go up.
Smith misses just as many shots now as she puts in. Remember when her shots were a sure thing? *Sigh*
Parker is still playing like a woman possessed. She has never been out of the game.
The Mystics have cut the Los Angeles lead to 71-65 at the 5:53 mark. Currie is still hustling and making shots. Tina Thompson is also making money now.
It looks to me that the Sparks' weak point is defense. They'll be looking good, clogging up the key, and then a Mystics player will find a way to cut through, go back door or pop up a shot over someone's head. Los Angeles needs to work on that.
It's 75-71 LA at the 3:05 mark. Shortly after that, Milton-Jones seems to be coordinating something with referee Denise Brooks-Clauser. Do the players and the refs barbecue together? I don't understand it.
It's 77-73 going into the last minute. Smith fouls Toliver, who misses both shots. Then with 11 seconds to go, Smith misses a layup on a drive and on Parker's rebound, Currie fouls her. Parker makes both. Currie quickly scores, and it's 79-75. But then Parker is again fouled, and she swishes both shots to close out the scoring.
Parker played the entire game. Marie Ferdinand-Harris and Andrea Riley didn't play at all. There is no confetti from the rooftops at this win – just a lot of smiles.
Sue Favor's Blog: They're Playing Basketball.