Los Angeles Sparks outlast Washington Mystics, 81-75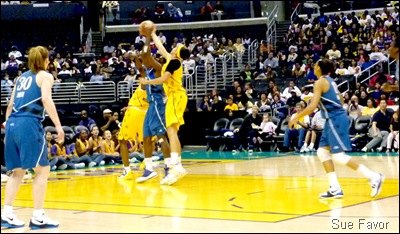 Candace Parker recorded a season-high 30 points and ten rebounds in the Los Angeles Sparks' 81-75 win over the Mystics Friday night in their home opener. It was the first win of the season for Los Angeles and proved to be a milestone for Parker, who broke the 1,000-point career mark in front of over 13,000 fans.
Sparks players Tina Thompson and DeLisha Milton-Jones added 15 and 14 points respectively. Five players were in double figures for Washington in the hard-fought match, whose outcome was in doubt until the final seconds of the game.
The Sparks began building a lead in the second quarter, largely on the back of Parker, who seemed to drive to the basket and make shots at will. The Mystics surged in the second and third quarters to narrow the gap by five points, but each time, Los Angeles stepped it up to extend the lead by double-digits.
In the fourth quarter, Washington took the Sparks' 11-point lead to four points five different times. Ahead 77-73 with 39 seconds to go, Sparks guard Kristi Toliver missed two free throws. Then Mystics forward Katie Smith missed on a driving layup, and Parker was fouled on the rebound. She made both shots, and then Monique Currie scored for Washington. Parker was again fouled, and her two free throws closed out the final score.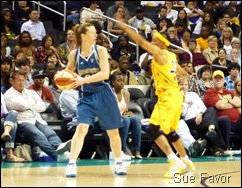 Parker attributed the win to the team's hard work.
"It was our effort from the start," she said. "We stayed in the game for 40 minutes."
But Sparks guard Betty Lennox acknowledged the Sparks have much to work on.
"Stepping up our defense is our biggest challenge, by far, because we've got a lot of offensive players," she said, referring to the roster of veteran players like herself.
"Besides defense, we need to continue getting to know each other and develop chemistry as a team."
Sparks point guard Ticha Penicheiro sat out most of the second half as a precautionary measure for her sore Achilles tendon, said team spokeswoman Alayne Ingram. Milton-Jones had a sore back at the beginning of the second half.
Parker is wearing a brace on her left shoulder again, as she did in 2008 after dislocating it in the NCAA Tournament semifinals. Friday night she said this is due to a "wakeup call" she had while playing in Russia this past winter.
"I jarred it, and that let me know it wasn't completely healed," she said. "[Wearing the brace] is a precaution, but I need it."
The Sparks will play the undefeated Atlanta Dream on Sunday at 5:00 p.m. PT at Staples Center.
Sue Favor's Blog: They're Playing Basketball.