San Antonio Silver Stars sign Chamique Holdsclaw, waive Belinda Snell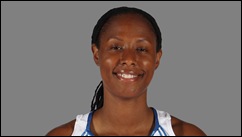 Just days after the Atlanta Dream waived veteran forward Chamique Holdsclaw, the San Antonio Silver Stars signed the former Tennessee Lady Vol star. In order to make room for Holdsclaw on its 11-woman roster, San Antonio cut Australian guard Belinda Snell from the squad.
"We are thrilled to have Chamique join the Silver Stars family," said Silver Stars general manager Dan Hughes. "Chamique and our staff felt it was such a great fit. We are excited to get to work with Chamique in a Silver Stars uniform."
Holdsclaw demanded a trade from the Atlanta Dream just three days before the beginning of training camp at the end of April. She did not participate in camp and on May 12, just two days before the final roster cut-down deadline for teams, Atlanta released a statement on her status:
"As we continue to build this franchise on and off the floor, we are at times faced with making tough decisions. We are currently challenged with one of the most difficult decisions this organization has encountered. Unfortunately, Chamique Holdsclaw recently expressed a desire to be traded. Chamique was an integral part of our success last year and we had every intention of keeping her and having her continue to play a key role with the Dream. We are actively pursuing a resolution to grant her request and we appreciate all that Chamique has done to help our young franchise."
As rumors circulated on the reasons for Holdsclaw's demands, she made no statements to the media. On Tuesday, the Atlanta Dream released her from the team.
"We appreciate all that Chamique has done to help our young franchise and we wish her well," said Dream general manager and head coach Marynell Meadors. "We are excited about the team we have in place and look forward to building on our strong start to the season."
Holdsclaw signed with the Dream in April 2009 after the team acquired her rights from the Los Angeles Sparks. She was originally was selected first overall by the Washington Mystics in the 1999 WNBA Draft. In her 10 seasons in the WNBA, Holdsclaw has tallied career averages of 17.3 points, 7.9 rebounds, 2.6 assists and 1.3 steals per game.
The 6-foot-2 forward earned the 1999 WNBA Rookie of the Year award and was starter in the league's inaugural All-Star Game. Her most productive season came in 2003 as she averaged a career-high 20.5 points, 10.9 rebounds and 3.3 assists per game. Prior to the start of the 2005 season, Holdsclaw was traded to the Los Angeles Sparks in exchange for DeLisha Milton-Jones and the 13th overall pick in the 2005 WNBA Draft. Holdsclaw's tally of 17.0 points per game in 2005 ranked her third in the league.
After playing in five games with the Sparks in 2007, Holdsclaw announced her retirement from the league but continued to play overseas for TS Wisla Can-Pak Krakow (Poland).
On Dec. 17, 2008, the Dream acquired the rights to Holdsclaw from the Sparks in exchange for the no. 13 pick in the 2009 WNBA Draft. She tallied averages of 13.9 points, 4.4 rebounds, 2.2 assists and 1.4 steals per game with the Dream last season before missing the last nine games of regular season play and Atlanta's first playoffs appearance after undergoing successful arthroscopic knee surgery.
At Tennessee, she was a four-time Kodak All-American. She collected 3,025 career points and 1,295 career rebounds which made her the all-time leading scorer and rebounder in Tennessee history among both men and women.