For USA Basketball's U18 team, Wednesday is show time
Photos courtesy USA Basketball
The 12-member USA Under-18 National Team comes off two weeks of training to begin their quest Wednesday for the 2010 FIBA Americas U18 Championship for Women in Colorado Springs, Colo. They play Argentina in the first round today at 5:45 p.m. MDT. The championship is set for Sunday.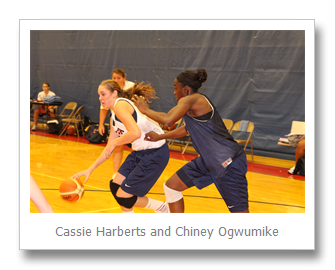 Team members are ready to begin the quest for gold.
"We've been coming along really well, and the energy in our last few practices is up," said Cassie Harberts, of San Clemente High School in Orange County, Calif. "There's a sense of urgency to win the gold medal."
Reshanda Gray, of Washington Prep High School in Los Angeles indicated that the weeks of hard work seem to be paying off.
"I think we're ready," she said. "If you had seen us on the first day of practice and compared it to now, you'd see how far we've come."
Harberts said head coach Jen Rizzotti asked the team recently what has changed for them the last two weeks, and one teammate said that they had become a family.
Gray said every player has proven to be valuable to the team's makeup.
"Each and every person brings something different to the table," she said. "Right now we're combining as one."
If they do win the gold medal, it will be through a lot of sweat. Players survived two rounds of cuts to make the team, and since then, their lives have been nothing but basketball, with two practices a day.
"The first practice is at 10 a.m., and we get a knock on the door at 7:30 a.m.," Harberts said. "We'll all go to breakfast, and then some people will go in the training room at 9:15 a.m."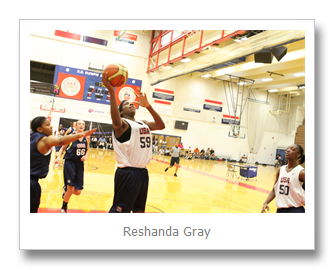 "After practice we shower, give them our laundry and rest until the next practice at 5 p.m."
Southern California has two representatives in Harberts, who just graduated and is heading to USC in the fall and Gray, who will be a senior next year. Both say they've learned a great deal during their time at training camp, but their viewpoints on the experience couldn't be more different.
Take the team's recent visit to Pikes Peak. Most of the athletes hadn't experience high elevation before, and Harberts was one who took off running to the top to "see how it would feel." Gray took a more conservative approach.
"I already felt a little lightheaded," she said. "I bought a pretzel and some cheese and sat down on a rock."
Harberts, who will miss her graduation Wednesday, said she is ready to go home. Gray isn't.
"I've complained, but I'm not missing LA," Gray said.
Both players say they've learned a great deal at camp, and some of it is similar.
"I've learned how to find a new gear when I'm tired, how to work with each other, and I've learned how to play better defense," Harberts said. "I've stepped out to the wing, as I usually play the four and coach wanted me to play the three."
Gray said she has "come out of her shell" during camp.
"I've learned how to fight through it when I'm tired, how to gather myself when I'm tired, how to play better help side defense, how to talk better on the court, how to make smart decisions and to make better passes," she said.
Both Harberts and Gray said the sacrifices they've made to be part of the U18 team have been worth it.
"This has been a good experience for me," Gray said. "I've got to work with different types of people and different coaches; I've worked with the best."
2010 FIBA Americas U18 Championship For Women Facts
OFFICIAL TITLE: 2010 FIBA Americas U18 Championship for Women
EVENT SITE: U.S. Olympic Training Center, Colorado Springs, Colorado
DATES: June 23-27, 2010
PARTICIPATING TEAMS: Argentina, Brazil, Canada, Chile, Costa Rica, Mexico, Puerto Rico and the United States.
EVENT DESCRIPTION: The FIBA Americas Women's U18 Championship features eight national teams from North, South and Central America and the Caribbean. The top finishing teams qualify for the 2011 FIBA U19 Women's World Championship. Players eligible for this competition must have been born on or after Jan. 1, 1992.
EVENT HISTORY: Originally known as the FIBA Americas Junior World Championship Qualifying Tournament, the event was held every four years beginning in 1988. FIBA recently changed its calendar and the tournament is now conducted every other year, followed in the next summer by the FIBA U19 World Championship.
USA women's teams boast of a remarkable 33-2 overall record in U18 / Junior Qualifiers and have won gold in 1988, 2000, 2004, 2006 and 2008, while capturing silver medals in 1992 and 1996.
Sites of prior FIBA Americas U18 Championships for Women include Buenos Aires, Argentina, in 2008; Colorado Springs, Colorado in 2006; Mayaguez, Puerto Rico, in 2004; Mardel Plata, Argentina, in 2000; Chetumal, Mexico, in 1996; Guanajuato, Mexico, in 1992; and Sao Paulo, Brazil, in 1988.
FIBA AMERICAS U18 CHAMPIONSHIP – USA PLAYERS OF NOTE:
Jayne Appel (2006); Alana Beard (2000); Kelsey Bone (2008); Tamika Catchings (1996); Marissa Coleman (2004); Skylar Diggins (2008); Stacey Ford (1998); Sonja Henning (1988); Niesa Johnson (1992); Rebecca Lobo (1992); Maya Moore (2006); Nneka Ogwumike (2008); Candace Parker (2004); Courtney Paris (2004); Cappie Pondexter (2000); Nicole Powell (2000); Lynn Pride (1996); Diana Taurasi (2000); Candice Wiggins (2004); and Tiffany Woosley (1992).
Source: USA Basketball
Sue Favor's Blog: They're Playing Basketball.