Oklahoma's Whitney Hand cleared to play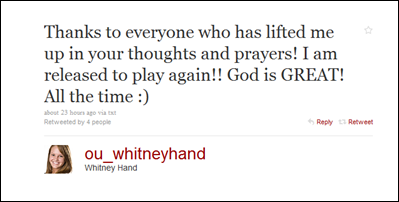 Whitney Hand's Twitter message about her medical clearance.
Oklahoma sophomore guard Whitney Hand received a medical clearance to play after six months of rehabilitation from an ACL injury.
Hand suffered a tear in her right knee on Nov. 27, 2009 during a game against San Diego State.
"Whit, to no one's surprise has been maniacally committed to her rehab," said Oklahoma head coach Sherri Coale. "She has attacked it with the same passion and determination that she exhibits on the basketball court."
The knee was surgically repaired in December.
The 2009 Big 12 Freshman of the Year was averaging 13.4 points and 4.4 rebounds while shooting 39 percent from 3-point range when her season came to an end.