Tulsa Shock sign Ashley Walker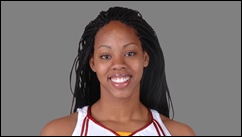 The Tulsa Shock signed 6-1 forward Ashley Walker yesterday morning. The team announced the signing today. The Cal graduate spent a few weeks training in Oklahoma after being cut by the Seattle Storm the day before the regular season began.
She fills the open roster spot created by the trade of second-year guard Shavonte Zellous last week to the Indiana Fever for the second round pick in the 2011 WNBA Draft.
Walker will relieve pressure on Amber Holt, a 6-0 small forward doing double-duty as a power forward for Tulsa. Holt has indicated she wants to play the three position where she is more comfortable.
Seattle drafted Walker in the first round of the 2009 WNBA draft (12th overall). She had a foot injury during her rookie season and only played in thirteen games. She played in Israel during the offseason for Maccabi Ashdod.
At Cal, Walker led the Pac-10 in scoring as a senior and is the only player in school history with at least 1,000 points, 800 rebounds, 200 assists and 100 blocks. She faced the Shock in their pre-season game on May 9 as a member of the Storm and recorded three points and three rebounds in seven minutes.
There is speculation that other trades are in the mix for Tulsa possibly involving Plenette Pierson or Kara Braxton for a player on the Minnesota Lynx, the Indiana Fever or the Atlanta Dream.
Next up for the Shock is the third of five games against the Minnesota Lynx on Friday. The game tips off at 7 p.m. CT at the BOK Center in Tulsa.