Lady Vol Amber Gray not cleared to play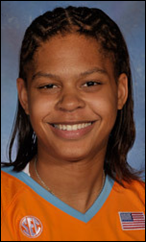 Last summer University of Tennessee women's basketball player Amber Gray underwent shoulder surgery. The medical procedure led to the discovery of a brain aneurysm and the freshman underwent an extensive recovery period.
Tuesday, Tennessee released a statement indicating that Gray, a redshirt sophomore, did not receive medical clearance to continue playing.
The university's statement from women's athletic director Joan Cronan :
Amber is a courageous young woman, and we hope she will remain at UT as a student. If she decides she would like to pursue a playing opportunity at another university, we will support her decision to do so. We only want what is best for Amber.
Photo: University of Tennessee Athletics