WNBA updates: Suspensions, injuries and transactions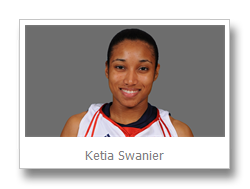 The WNBA announced Monday that Phoenix Mercury guard Ketia Swanier received a one-game suspension for leaving the bench area during an on-court incident in Saturday's game against New York. The altercation involved New York Libery guard Cappie Pondexter, Mercury forward Penny Taylor and Mercury guard Diana Taurasi.
During the third quarter, Taylor drove to the basket and was fouled hard across the head by Pondexter. Taurasi went to aid Taylor and was shoved by Pondexter resulting in a brief altercation on the court. Members of both teams reacted to the incident. Taylor received a technical foul. Pondexter was called for a flagrant two personal foul and ejected from the game.
Concussions: Lauren Jackson and Sancho Lyttle

Seattle Storm starting center Lauren Jackson is questionable for Tuesday's game against New York after suffering a concussion during Saturday's game versus Los Angeles. Jackson did not practice with the team on Monday.
Atlanta Dream forward Sancho Lyttle left Saturday's game against Chicago with a concussion after getting knocked on the left side of her face by an elbow from Sky center Sylvia Fowles.
Surgery for Sun forward Anete Jekabsone-Zogota
Anete Jekabsone-Zogota will undergo arthroscopic surgery on her right knee. The surgery is set for Thursday and she could miss up to four weeks.
More changes in Tulsa
The Tulsa Shock signed veteran free-agent guard Ivory Latta to a contract on Monday. The team waived rookie guard Natasha Lacy. Latta participated in the Shock's training camp but was waived on May 13.
Natasha Lacy appeared in all 16 games for the Shock this season, averaging 6.3 points and 3.5 assists as a rookie in 18.3 minutes a game.
A former University of North Carolina standout, Latta is expected to practice with the Shock this week and be in uniform this Thursday when Tulsa travels to Indiana to play its final regular-season game before the All-Star break. During her three years in the league, the guard was a member of the Atlanta Dream and the Detroit Shock. She has a career average of 7.0 points and 2.0 assists per game.
Other Tulsa transactions from the regular season:
June 13
Traded Plenette Pierson to the New York Liberty in exchange for Tiffany Jackson.
June 8
Waived Ashley Walker and Amanda Thompson.
Signed Kiesha Brown and Jennifer Lacy.
May 27
Traded Shavonte Zellous to the Indiana Fever in exchange for a second-round pick in the 2011 Draft.
San Antonio re-signings
Three days after putting them on waivers, the San Antonio Silver re-signed Crystal Kelly and Allie Quigley