Lady Vol Amber Gray to transfer, will resume playing basketball at Xavier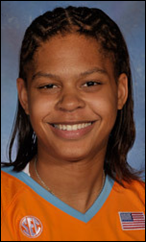 Lady Vol redshirt sophomore Amber Gray is reportedly in the midst of transferring from Tennessee to Xavier University, where she will play basketball.
Sources outside the university say that Gray, who was not cleared to play by UT after suffering a brain aneurysm last year, has more paperwork to complete but will enroll at Xavier for the fall semester. Xavier officials declined to comment on the situation.
After completing her sophomore year, Gray had a stroke July 2, 2009 while undergoing shoulder surgery. Last month, when UT declined to clear her to play after rehabilitation, Athletic Director Joan Cronan released a statement on the school's decision:
If she decides she would like to pursue a playing opportunity at another university, we will support her decision to do so. We only want what is best for Amber.
During the 2009-2010 season, Xavier repeated as Atlantic 10 regular season champions, won the Atlantic 10 Tournament for the third time in four years and advanced to the NCAA Tournament Elite Eight for the second time in school history. They finished the year with a 30-4 overall record.