USA women win 2010 FIBA World Championship, beat Czech Republic 89-69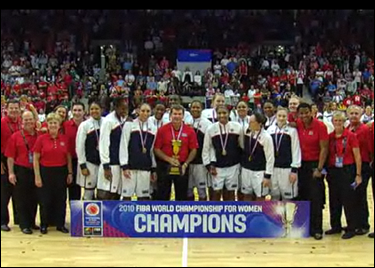 The USA beat the Czech Republic, 89-69, in the 2010 FIBA World Championship for Women on Sunday. A full arena of over 7,000 fans including the country's leaders, cheered on the home team. But the USA prevailed amidst the noise of the Czech crowd. After a slow first half, the USA team came out strong to build a 25-point lead.
Angel McCoughtry led the USA team with 18 points. Diana Taurasi finished with 16.
The Czech Republic's Hana Horakova received the tournament's Most Valuable Player award.
Tournament All-Stars
Hana Horakova (Czech Republic)
Diana Taurasi (United States)
Eva Viteckova (Czech Republic)
Sancho Lyttle (Spain)
Yelena Leuchanka (Belarus)