From Russia to the Midwest, Pokey Chatman expects nothing less than success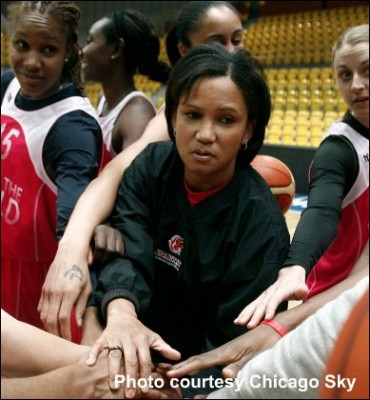 College coaches who make the career transition to leading a team on the professional level do not always meet with success. Faced with the reality of more fragile job security and owners who seek fast results of underperforming teams, many coaches prefer the more stable terrain and financial stability of college campuses. However, for Pokey Chatman, the shift from Division I women's basketball to an elite Russian professional team resulted in stellar achievements such as EuroLeague titles and a perfect record one season.
Next summer Chatman returns to pacing the sidelines in the United States when she steps on the floor as the new general manager and head coach of the WNBA Chicago Sky. The new job will also give her the opportunity to be closer geographically to her beloved Louisiana where her basketball career began, first as a player, a few decades ago.
The Little Girl from Louisiana
Chatman is from small-town Louisiana. When asked about her humble beginnings in a Skype interview from Russia with Hoopfeed.com she indicated she had no inkling of becoming a globetrotting basketball professional during her childhood.
"Sometimes people may sit there and say 'you know I dreamed this as a little girl,'" she said. "Actually, I didn't. You just don't even think those opportunities exist at that point in time when you're a little girl in St. John Parish. You're just thinking about making the day as good as you can make it and hopefully make the next day a little bit better."
Basketball was a way for her to escape the day-to-day "survival mode" way of life in a small southern town.
"You're just thinking about making the day as good as you can make it and hopefully make the next day a little bit better….You know basketball is just a way to get through some other difficult things."
She echoes the sentiments of many basketball players and coaches from modest backgrounds who become successful at the sport – time gives you the chance to reflect on good fortune. It is not until later that "you realize all the opportunities from college scholarships to a way of life, let alone a way of life abroad all over the world."
Longtime fans of Southeastern Conference women's basketball are probably familiar with the 1991 Kodak All-American's accomplishments as a player and coach before she left LSU in 2007. She remains LSU's all-time leader in career steals and is second behind Phoenix Mercury point guard Temeka Johnson (LSU '05) in career assists. But it was her coaching prowess that helped her transition into one of the top international coaches. She guided LSU to a perfect SEC record in 2004-05 and consecutive NCAA Final Fours after taking over the program from the late Sue Gunter.
Russian Hoops
When Chatman arrived in Russia in 2007 to coach Spartak Moscow Region, she served as an assistant under legendary coach Natalia Hejkova.
"I was fortunate enough to start this gig at Spartak with the lady that some people consider the Pat Summitt of European basketball with all of her European titles."
Chatman enjoyed learning the ropes from Hejkova and other European coaches and expressed gratitude at seeing the game from a global perspective as opposed to the regions of the U.S.
"Usually people talk about the north, west, the east, but to get out and do it globally does wonders for your coaching game. You get to experience different styles of coaching and different strategies of coaching….I've been fortunate in that sense to be able learn from some of the top European coaches."
At Spartak, she reconnected with former LSU star and current Chicago Sky center Sylvia Fowles. Chatman coached Fowles at LSU as well as Minnesota Lynx player Seimone Augustus and the Tulsa Shock's Scholanda Robinson. The current Spartak squad also includes Sky guard Epiphanny Prince, WNBA MVP Lauren Jackson of the Seattle Storm, Noelle Quinn of the Los Angeles Sparks and Anete Jekabsone-Zogota of the Connecticut Sun.
"So many people go abroad," she said, "obviously it's their job, their profession but the few that I've been fortunate enough to coach earn an extremely comfortable living doing this in a foreign place. We're all in a foreign place per se and so we're learning from one another, learning to adjust at this level, this culture….So you have this natural bond in making everything better in terms of our experiences abroad."
Consequently even though she's in a strange land, she and others adjust to the quirks of communicating with friends and family back home over several time zones.
"I don't sleep a lot by nature," she says of the hectic schedule of coaching Spartak and managing her new Sky duties from abroad. "I'm a person that only sleeps about four or five hours anyway and I think I can tell you this about being overseas – we joke about it all the time with the players and everyone else over here – we're the ones that always adjust to the time difference. We get accustomed to it. It's part of being away. It's natural for us to set the alarm for 2 o'clock in the morning to make a phone call."
"It's funny we're on Skype right now. I did my press conference on Skype. With technology today it just makes it very possible to do so many things from abroad."
Plans for Chicago
When Chatman leaves Russia she will have the monumental task of pulling the Sky franchise out of its cellar-dweller status in the WNBA. How does she intend to begin that uphill climb?
"Start with the players. You start with those franchise players."
"It's about expectation," she continued. "It's about ownership, about individual responsibility. The best way to improve the team or organization is to improve the individual, make those individual improvements. Then when we all gather and convene we can put all those improvements together and lay out a plan in order to achieve some of the goals that I think are extremely achievable with the sky organization."
She gave more specific tidbits about her plans for the Sky.
"Honestly, I like to start on the defensive end because that immediately incorporates everybody on the roster," she said. "It doesn't necessarily mean you have to be an All-star player or a franchise player to contribute to the success of the team on that end of the floor. I think what that initially does is translates into a team that is transition oriented."
However, having star players does help.
"At the end of it, you have a center like Sylvia Fowles to help you get there."
League Stability
When asked about the financial stability of the WNBA, she voiced optimism as to its future. Did she have any hesitations about taking a job with a league that has gone from 16 to 12 teams?
"No I didn't," she responded. "It's one of those things where you watch the sport grow, you watch the sport shrink, you watch it adjust to everything that's going on in the world and here we are 14 years later and all you hear about is 'will the league survive?' And not only has it survived, I think it's thriving in a lot of areas. I think the commitment is there."
She feels that the Chicago job is a perfect fit for her.
"The situation in Chicago felt right for a lot of reasons: the owner, the franchise, the timing," she said. "It wasn't just about any job, it was about this particular job – an opportunity to go in there and make a difference and if that were not there I would not have considered it. But there's always going to be talks regarding the nature of business in terms of the economy. I feel comfortable with it and that's why I made the change."
Fan reception to the Sky's new hire has been overwhelming positive. Sky fans are hungry for triumph and the move to hire Chatman clearly indicates the owners are looking for a turnaround to more wins for the squad.
"I've had a few people tell me that," she said when the optimistic fan reception is mentioned, "and it brings a smile to my face, it warms my heart. It's nice to hear that there's excitement."
However, she indicated she also realizes that the excitement needs to be backed up with results.
"I recognize, we recognize that at the end of the day, in order to build on that excitement the product has to be on point. We have to get the maximum effort out of our players to make the playoffs and continue to build on things."