Southern Methodist looks to rebuild, develop chemistry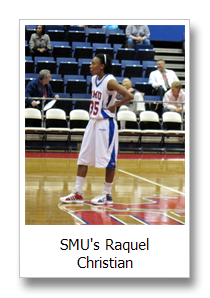 DALLAS – Two years ago Southern Methodist University sat on the top of Conference USA after winning the conference tournament. The Mustangs defeated the University of Texas at El Paso and secured an automatic bid to the NCAA tournament. The following year, the Mustangs were the regular season C-USA champions, capping a three-year period of three consecutive 20-win seasons.
And last year, SMU opened the season with a win over West Coast Conference team Loyola Marymount. However, on Friday, another visitor from the west defeated SMU in their home opener. A scrappy and young Utah Utes squad overcame a five-point deficit in the last three minutes to win on a jumper by junior Janita Badon in the final four seconds of the game. Badon came off of a screen by Michelle Plouffee and drained a shot from the free-throw line.
The teams were tied at 19 at halftime during the low-scoring game. SMU led for much of the second half although there were four lead changes but the Utes pulled out a 44-43 victory. Badon led Utah with 15 points.
Replacing Star Players
SMU's lapses in scoring and missed defensive assignments in the last minute reflected the holes left by the departure of three seniors: Brittany Gilliam, Jillian Samuels and Alice Severin. Gilliam and Samuels ended their SMU careers in 2009-10 with over 1,000 points scored. Delisha Wills, fifth year senior, joined the 1,000 point club in the loss to Utah. Wills did not play last year due to a torn ACL. She was the team's high scorer against Utah with 13.
SMU under Rhonda Rompola
1991-92
(17-12)
1992-93
(20-10)*
1993-94
(18-9)*
1994-95
(21-10)*
1995-96
(19-11)*
1996-97
(19-11)
1997-98
(21-8)*
1998-99
(20-11)*
1999-2000
(22-9)*
2000-01
(17-12)
2001-02
(12-18)
2002-03
(16-15)
2003-04
(13-15)
2004-05
(19-11)*
2005-06
(16-14)
2006-07
(18-12)
2007-08
(24-9)*
2008-09
(20-12)*
2009-10
(20-11)*
*Postseason appearance
"She was the only one who had some consistency offensively," said head coach Rhonda Rompola about Wills. "Other than that, we really didn't have a consistent player offensively."
This year Wills is on a squad alongside four freshman and a mixture of other players who, due to injuries, have not had much time playing together.
"We only have three players that have actually played together for a while," said Rompola, referring to Wills and two other upperclassmen, senior Haley Day and junior Christine Elliott. SMU did not play any exhibition games.
Day and Elliot were the team's top rebounders last season. Sophomore Alisha Filmore takes over the point guard position vacated by Gilliam. Senior Raquel Christian, a transfer from Texas Tech, will also start in the back court this season. She had seven points against Utah and averaged 7.1 points per game last season.
Freshman Akil Simpson who played alongside Baylor's Odyssey Sims on the DFW T-Jack Elite club team and is a product of nearby Duncanville High, missed several days of practice leading up to the season opener while she recovered from a minor ankle injury.
"She was playing so well," said Rompola, "and then she hurt her ankle so she's only been playing for a couple of days."
Unfortunately for Simpson, when she entered the game during first half, she committed two quick fouls so according to Rompola, the freshman "couldn't get into a groove."
But the coach is confident about Simpson's future on the team saying "she's got a wealth of talent."
Rebuilding
Rompola begins her 20th season as the head coach of SMU, the team where she finished her collegiate playing career after transferring from Old Dominion in the early 1980s. She quickly helped the team recover from several losing seasons after taking over the program in 1991 after the late Welton Brown retired. During her tenure at the helm, the team has had ten postseason appearances and 17 seasons above the .500 mark.
This year she says that the team is going to go through some "growing pains."
"It's a work in progress right now," she said. "The problem is we haven't had players playing together in practice. We've had people that have been injured in and out and that's been difficult. It's going to take us a while to get comfortable with one another especially when it's only been in the last couple of days that we've had a full squad at practice."
SMU does not have much time to work on developing chemistry before facing a top 25 team. They play 23rd-ranked Texas Christian University, another Mountain West team, this week. The teams last met on December 9, 2009. TCU beat SMU in Dallas, 84-68 and then defeated Texas A&M three days later, the only non-conference loss during the regular season for the Big 12 power last year.
Before C-USA conference play begins in January, the Mustangs will also meet two Big 12 teams including Kansas and No. 17 Texas.
"Our schedule is tough," said Rompola. The Mustangs also face USF, UNLV and Wake Forest in non-conference play.
In meantime the coach is focused on mainly one thing.
"My biggest worry is trying to get this team to make buckets."
The Mustangs and the Horned Frogs tip off at 6:30 p.m. on Wednesday, November in Forth Worth at Daniel-Meyer Coliseum.
Notes:
Three members of the current squad are transfers from Big 12 teams: Senior Raquel Christian from Texas Tech, junior Heidi Brandenburg from Missouri and junior Kristin Hernandez from Oklahoma State.
12 of SMU's 13 players are from Texas. Eleven are from towns within 50 miles of the DFW area.
Assistant Coaches Deneen Parker and Danny Hughes were both inducted into their alma mater's hall of fame in October. Parker graduated from Stephen F. Austin. Trinity Valley Community College honored Hughes for playing for two seasons and coaching for two seasons.
SMU 2010-2011 Schedule
Date

Opponent / Event

Location

Time

11/12/10

vs. Utah

Moody Coliseum

L, 44-43

11/17/10

at TCU

Fort Worth, Texas

6:30 p.m. CT

11/21/10

at UTSA

San Antonio, Texas

2:00 p.m. CT

Hoops for the Cure Tournament

11/26/10

Georgia Southern vs. Akron

Moody Coliseum

5:00 p.m. CT

vs. Arkansas State

Moody Coliseum

7:00 p.m. CT

11/27/10

Consolation Game

Moody Coliseum

3:00 p.m. CT

Championship Game

Moody Coliseum

5:00 p.m. CT

12/01/10

vs. Arkansas – Pine Bluff

Moody Coliseum

7:00 p.m. CT

12/04/10

vs. Kansas

Moody Coliseum

2:00 p.m. CT

12/07/10

vs. North Texas

Moody Coliseum

7:00 p.m. CT

Basketball Travelers Classic

12/18/10

vs. Texas

Las Vegas, Nev.

2:30 p.m. CT

12/19/10

vs. USF

Las Vegas, Nev.

7:00 p.m. CT

12/20/10

at UNLV

Las Vegas, Nev.

9:30 p.m. CT

12/30/10

at Stephen F. Austin

Nacogdoches, Texas

7:00 p.m. CT

01/03/11

at Wake Forest

Winston-Salem, N.C.

6:00 p.m. CT

01/06/11

at Tulane *

New Orleans, La.

7:00 p.m. CT

01/09/11

vs. Houston *

Moody Coliseum

2:00 p.m. CT

01/13/11

at Tulsa *

Tulsa, Okla.

7:00 p.m. CT

01/16/11

vs. UCF *

Moody Coliseum

1:00 p.m. CT

01/23/11

vs. UTEP *

Moody Coliseum

2:00 p.m. CT

01/27/11

at Southern Miss *

Hattiesburg, Miss.

7:00 p.m. CT

01/30/11

at Houston

Houston, Texas

2:00 p.m. CT

02/03/11

vs. Tulane *

Moody Coliseum

7:00 p.m. CT

02/06/11

at Rice *

Houston, Texas

2:00 p.m. CT

02/10/11

vs. Marshall *

Moody Coliseum

7:00 p.m. CT

02/13/11

vs. Tulsa *

Moody Coliseum

2:00 p.m. CT

02/17/11

at East Carolina *

Greenville, N.C.

6:00 p.m. CT

02/20/11

vs. UAB *

Moody Coliseum

2:00 p.m. CT

02/24/11

at Memphis *

Memphis, Tenn.

7:00 p.m. CT

02/27/11

at UTEP *

El Paso, Texas

3:00 p.m. CT

03/03/11

vs. Rice *

Moody Coliseum

7:00 p.m. CT