Baylor outmatches Tennessee for win in front of record crowd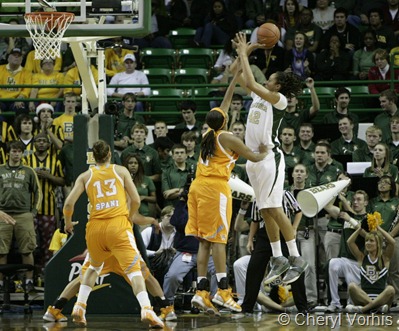 Brittney Griner shoots over Kelly Cain.
WACO, Texas – The anticipation in Waco for the matchup between No. 2 Baylor (10-1) and No. 6 Tennessee (9-2) developed over several weeks and Tuesday night the Baylor faithful showed up. The crowd set a Ferrell Center attendance record at 10,569 and watched the Lady Bears defeat the Lady Vols, 65-54.
The crowd gave opposing coach, legendary Pat Summitt a standing ovation when she was introduced during a pre-game ceremony that honored Hall of Famers in attendance: Summitt, Kim Mulkey, Leon Barmore, Sonja Hogg, Fran Garmon, Holly Warlick and Daedra Charles-Furlow.
"That was a great crowd out there," said Mulkey. "They were here to support the Lady Bears, without question. But they were here in appreciation of Pat Summit because she means so much to all of us that love women's basketball. I was proud that our crowd showed that kind of respect to her program."
Baylor never trailed getting off to a 5-0 lead after a back and forth of missed shots by the freshman point guards from both teams.
Sophomore center Brittney Griner began her shot blocking early in the game with a swipe that denied sophomore Tennessee sophomore Kamiko Williams a jumper. Griner consistently deprived the Lady Vols shooting opportunities as they shied away from paint over and over again during the contest when faced with frame of the 6-8 sophomore.
Brooklyn Pope joined Griner in the blocking action throughout the game including one on 6-6 center Kelly Cain early in the first half getting the loud crowd revved up.
Griner also played to the crowd especially the Texas Bowl bound Baylor football team that took up two sections of student seating behind the basket near the Baylor bench. She waved to the players after a block on Taber Spani.
A free fan giveaway of Baylor Mulkey bobblehead dolls provided an item for the football players to hold up and wave in the air when their classmates on the floor scored or blocked shots.
Sims vs. Simmons
Texas fans looked forward to the seeing first-year starting point guards from each team go at each other. Odyssey Sims, the 2010 No. 1 ranked prep point guard from Irving faced Meighan Simmons, from Cibolo, who was ranked at No. 7 in the position.
While Simmons led her team her team with 21 points, Sims had a game and career-high 24. Simmons gave credit to Sims during the post-game press conference for leading her team.
"She has gotten better," said Simmons. "Today I saw a side of Odyssey that I've never seen."
Second Half Fatigue
Going into the break, Baylor led Tennessee 34-21. Sims had 21 points while Griner had 10 and six blocks. No Tennessee player had double figures at halftime. Three players had five points each. The Lady Vols shot 22.9 percent from the field in the first half and 25 percent overall.
"I've played Pat-coached teams since 1980 and I'm not sure any team I've been affiliated with any that has held them to 25 percent shooting," said Mulkey. "That's a glaring stat. We take pride in that."
While Baylor had plenty of opportunities to pull away from Tennessee in the second half, sloppy play marred both team's efforts in the second half.
"I just thought that both teams played extremely hard," Mulkey. "I thought fatigue set in at the end of the second half. At the end of the first half we just got some open breaks, got a few turnovers, we were just able to extend it at the end of the half on some things that I don't know if we necessarily did or if Tennessee just turned it over."
Griner finished with 21 points and nine blocks. For Tennessee the only other player who finished in double figures was Angie Bjorklund who had 10. There were no lead changes during the game.
Baylor heads to the Bahamas for the Sunsplash Shootout to face Clemson on December 20. The Lady Vols face Stanford on December 19 in Knoxville.