Tennessee at Baylor preview: Lady Vols look for revenge, freshman starting point guards go head-to-head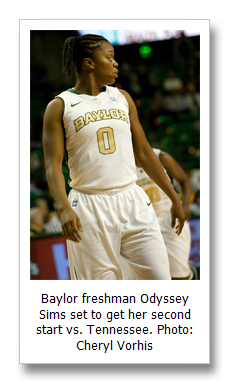 No. 6 Tennessee (9-1) at No. 2 Baylor (9-1)
Ferrell Center, Waco, Texas
6 p.m. Central
ESPN2/ESPN3.com
Talent: Pam Ward (pxp), Carolyn Peck (analyst)
Radio: Baylor Sports Network – IMG College
1660 AM (Waco); 106.9 FM (Killeen), BaylorBears.com
Talent: Rick May (pxp), Lori Fogleman (analyst)
Live Stats and Audio: BaylorBears.com
WACO, Texas – Tennessee and Baylor met twice last season, both games televised matchups. In the first game on November 15, 2009, Lady Bears 6-8 star center Brittney Griner was a freshman just six months out of high school. Her game-changing potential was enough to make legendary Lady Vols coach Pat Summitt have her team start the game playing zone defense – a first in her coaching career at Tennessee.
"That's the first time in 36 years that we started in a zone and stayed with it throughout the game," said Summitt after the game. "How about that?"
Baylor fell to Tennessee 74-56 in that early season game but by the time the NCAA tournament rolled around in late March, Baylor was a much improved squad. The Lady Bears defeated top-seeded Tennessee 77-62 in a Sweet Sixteen game to advance to the Elite Eight. Griner scored 27 points and blocked 10 shots in that game.
This year both Baylor and Tennessee have freshman point guards who have already shown their prowess early in the season. For Tennessee, Meighan Simmons from San Antonio, three hours down Interstate 35 from Baylor, nicknamed "Speedy" has had ten consecutive double-digit games. Summitt says Simmons is the "fastest player I have coached." Simmons scored 18 points in Tennessee's Sunday afternoon game at Texas, another short trip south down I-35 in Austin.
For Baylor, many fans and writers tend to focus on Griner. However, Odyssey Sims from nearby Irving is a force to be reckoned with as well. The number one point guard in her recruiting class is now running the point. In her debut against No. 1 ranked Connecticut she scored 17 points. Her track to the starting position became shorter after senior starting point guard Kelli Griffin quit the team shortly before the beginning of the regular season. Sophomore Kimetria "Nae Nae" Hayden started at the point for nine games but Sims took over the in the team's last game, a win over Minnesota.
"I knew the day was going to come," said Sims about her first start. "I just didn't know when, so know I have to take advantage of it in practice, work my butt off and show her that I can handle the starting position and lead this team where we are trying to go."
After Minnesota's loss Gophers head coach Pam Borton talked about Sims and her impact.
"I think she makes more of a consistent or another three-point option on the floor," said Borton. "….Not that the other kids cannot shoot but she is one of their best three-point shooters from deep three-point range. Spread the floor out and Griner is more open inside. I think they present a lot of problems when they have shooters on the perimeter and they have got a 6-8, great athlete inside."
Other returning starters for Baylor include senior Melissa Jones and sophomore Shanay Washington. However, Washington is out for the season after tearing the ACL in left knee in practice on Saturday, November 20. She will miss the rest of the season. Brooklyn Pope, a transfer from Rutgers, is helping pick up the slack. She had a career-high 20 points and 14 rebounds in Baylor's December 1 win against No. 16 Notre Dame.
Probable starters for Baylor
0 Odyssey Sims, G, 5-9, Freshman
1 Kimetria Hayden, G, 6-0, Sophomore
5 Melissa Jones, G, 5-11, Senior
32 Brooklyn Pope, F, 6-1, RS-Sophomre
42 Brittney Griner, C, 6-8, Sophomore
Probable starters for Tennessee
25 Glory Johnson, C, 6-3, Junior
52 Kelly Cain, C, 6-6, RS-Junior
10 Meighan Simmons, G, 5-9, Freshman
5 Angie Bjorklund, G, 6-0, Senior
40 Shekinna Stricklen, F, 6-2, Junior
Around the Web