Baylor routs Kansas in Lawrence, 76-37 and gets revenge for men's loss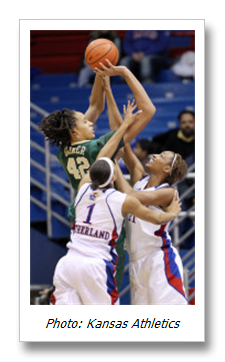 Baylor got revenge on Kansas for a drubbing their men's team received from the Jayhawks Monday night in Waco. Twin brothers Markieff and Marcus Morris led Kansas in an 85-65 victory over the Bears.
The Lady Bears earned a decisive Big 12 road victory against Kansas (14-4, 1-3) Wednesday night in Manhattan in front of a crowd of 1,486 that braved snowfall to witness the matchup. Kansas hosted a No. 1 women's basketball team for the first time in program history but lost 76-37.
"We watched Kansas' men the other night and watched them put on a clinic at our place," said Baylor women's head coach Kim Mulkey. "I loved what that team did. A lot of the things they did in that game, I think we translated to this basketball game. We try to run some of the same stuff that [Kansas men's coach] Bill [Self] does.
Sophomore Brittney Griner earned her 21st career double-double for Baylor (17-1, 4-0) with 22 points and 15 rebounds plus five blocks. Freshman Odyssey Sims and sophomore Destiny Williams also posted double-digits for the Bears with 21 and 12 points, respectively. It was Sims' 13th double-digit scoring performance of the season and 13th in the last 14 games in which she has played.
For Kansas, freshman Keena Mays scored a team-high nine points. Sophomore Monica Engelman followed with seven points and senior Marisha Brown added six points.
Baylor got off to a hot start on 11-0 run in the first 4:30. Kansas missed its first five shots from the field.
Mulkey credited her team's defense with getting momentum going for the Lady Bears.
"I thought it started with our defense on the ball," she said. "Odyssey Sims brings a dimension to our team with her relentless pressure that makes everybody else active on the wings. The two post players [Aishah] Sutherland and [Carolyn] Davis for Kansas, you've got to keep them off the glass. They had one offensive rebound in the first half, I'm not even sure what they finished the game with, but that was stressed. I thought our kids did a good job of giving them one shot."
At the break, Baylor led 40-14. Kansas' 14 points tied a record for fewest first half points allowed by Baylor vs. a Big 12 team. Oklahoma State also scored 14 on Jan, 11, 2006.
Baylor is now 14-7 all-time against Kansas, including 5-4 in Lawrence.
Kansas head coach Bonnie Hendrickson praised Baylor's play and gave credit to their efforts to stay number one in the country.
"I don't think they came in here and left any doubt that they're the best team in America right now," she said, "and we didn't fight them much on that unfortunately. Give credit to them though, it wasn't about Brittney Grinner that whole night, it was Odyssey Sims and their effort on the offensive glass. I am just disappointed we didn't show more toughness and compete."
The Lady Bears return home to face Texas Tech on Saturday at 7:30 p.m. The Lady Raiders lost to No. 14 Oklahoma in Norman on Wednesday night, 71-61.
Kansas hosts Oklahoma Sunday. The game will tip-off at noon and will be televised on FSN.
Other Big 12 scores:
No. 6 Texas A&M 80, Texas 65
Kansas State 66, Missouri 63
Tuesday, January 18
Oklahoma State 58, Colorado 49