Catching up with Jacki Gemelos: Q & A with the USC guard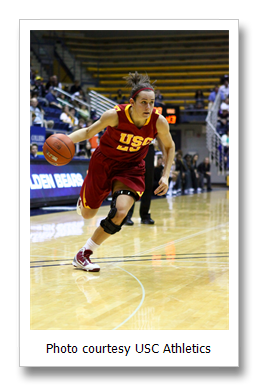 Jacki Gemelos was the number one guard in the country in 2006. It was her senior year at St. Mary's High School in Stockton, California. She was averaging 39 points per game, and had never been injured before.
The first anterior cruciate ligament (ACL) tear happened in March of that year, as her team was making a run for a state championship. She went to University of Southern California and redshirted her first year to rehabilitate the knee. In the fall of 2007, she tore the same ACL, forcing her to sit out another year. Again she worked hard to come back, and seemed poised to do so when the incredible happened: Gemelos tore her left ACL in the fall of 2008.
People gave up on her. Dubbed her "cursed." But fortunately, Gemelos never gave up on herself. And on Feb. 4, 2010 she finally made her college basketball debut, in a game against Cal in Berkeley: eight points, five assists and five rebounds in 28 minutes. She played in all 11 remaining games after that, and matched her scoring career high of 13 three times.
As of this past weekend, Gemelos is the third-leading scorer on her team this season, averaging 12.8 points per game. She's the second-leading blocker, with eight, and averages 3.9 rebounds per game. Against Fresno State on December 29, Gemelos garnered a new career-high: 27 points in the Trojans' win.
SF: Four years is a long time to be rehabilitating from injury. Did you ever consider just giving up during this process?
JG: I didn't ever want to quit. I had doubts here and there, but I never wanted to quit.
SF: Especially after the third injury, some fans started to say you were "cursed." What did you think of that?
JG: I always saw myself as really unlucky – not so much cursed. I don't blame it on anything but really bad luck.
SF: What kept you going all that time?
JG: I don't think I ever once said I couldn't foresee myself playing in college. I didn't doubt that I would play again – I doubted my performance at times. But I had faith, and I couldn't see myself not playing.
SF: How long have you been playing basketball?
JG: Since I was seven.
SF: Were you one of those kids who took the ball to bed?
JG: Yep.
SF: What did your first game back last year mean to you?
JG: The first game was at Cal, and I'm from that area, so all my friends and family were there. That meant a lot.
SF: What was it like playing for the first time in so long?
JG: I felt pretty comfortable playing, but weird things happened – like I forgot some of the rules. For example, I couldn't remember if, on a free throw, I could move on the release or hit of the ball.
SF: You've sure got off to a strong start so far this season. How do you feel?
JG: I feel great – no pains in the knees at all.
SF: You're a redshirt senior. Do you plan to play next year?
JG: Yes, definitely.
SF: (Coach) Michael Cooper told me that your coaches are getting you ready to play in the WNBA. Is that your plan?
JG: Absolutely – that's always been my plan.