New season, new starting lineups for Baylor and Texas Tech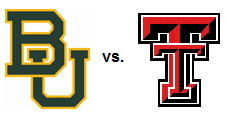 No. 1 Baylor (17-1, 4-0) hosts Texas Tech (16-2, 3-1)
Saturday, January 22, 2011, Ferrell Center (10,284)
Tip-Off: 7:30 p.m. CST
TV: None
Video/audio/live stats: www.BaylorBears.com
Radio: 92.9 FM – Rick May (pxp), Lori Fogleman (color)
Series: Texas Tech leads 46-24
Texas Tech Head Coach Kristy Curry: Career Record, 261-115 (12th season)
Baylor Head Coach Kim Mulkey: Career Record: 281-77 (11th season). Mulkey is 16-7 overall vs. the Lady Raiders and 8-2 in the Ferrell Center.
Moving Along
The message from Baylor and Texas Tech regarding last year's infamous scuffle between Lady Bears center Brittney Griner and Lady Raiders forward Jordan Barncastle: Move along there is nothing to see here.
"It's in the past and we put it in the past and it continues to be where others want to bring it to the forefront," said Texas Tech head coach Kristy Curry to a reporter who asked about the incident during this week's Big 12 women's basketball coaches' teleconference. "If you've noticed from my comments it hasn't been talked about, won't be talked about. We've moved past that. It's a different team, a different year. Those two young ladies just need to be allowed to play the game."
Texas Tech Road Trip
This weekend the Lady Raiders head to Waco in the second matchup of a two-game road trip. They come into the matchup after suffering their first Big 12 loss Wednesday night at Oklahoma. The No. 14 Sooners beat the Lady Raiders 71-61. However, Texas Tech's mental toughness led them to outlast two other Big 12 opponents in overtime matchups earlier this month. They beat Kansas State 68-66 on January 15 and Missouri 63-56 on January 12.
Curry cites her team's mental maturation from last year as a key in getting those overtime victories.
"Where have we grown the most, it's definitely been our mental toughness," said Curry. "The ability to have mental toughness down the stretch and understand that if you're going to be successful in this league that that's what you've got to have – that perseverance and mental toughness.
Texas Tech entered the top 25 in the USA Today/ESPN Coaches poll this week, the first time they have been ranked since being No. 25 in the Associated Press poll on Nov. 27, 2006. They are led by junior Kierra Mallard who is averaging 13.7 points per game. She is followed by senior Teena Wickett at 10.4 and sophomore Casey Morris at 8.9. Mallard is also averaging a team-best 8.0 rebounds per contest and Wickett is averaging 7.0.
Baylor Streaks
The No. 1 ranked Lady Bears go into the weekend's matchup on a 14-game winning streak after routing Kansas, 76-37, on the road Wednesday. They are led by Griner's 22.0 points and 7.8 rebounds a game while freshman guard Odyssey Sims follows with 13.8 points a contest. Senior guard Melissa Jones ranks second in rebounding at 7.0 an outing and adds 9.3 points per game.
Baylor leads the Big 12 Conference in the following categories: scoring offense, scoring defense, scoring margin, field goal percentage, field goal percentage defense, 3-point FG percentage, 3-point FG percentage defense, rebounding margin, blocked shots and defensive rebounds.
They open Big 12 Conference play 4-0 for the third time in the league's 15-year existence. Baylor opened league play in 2007-08 with eight straight wins and started 5-0 in 2008-09.
Williams Gets a Start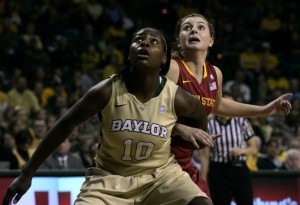 Destiny Williams. Photo: Cheryl Vorhis
Baylor head coach Kim Mulkey has tinkered with her starting lineup in the past few games giving sophomore transfer Destiny Williams a chance to start in the matchup with Kansas. Williams (Benton Harbor, Michigan) left Illinois at the beginning of her freshman year and only played one game for the Illini, an overtime loss to Temple in Philadelphia on November 13, 2009. Williams only played seven minutes in that game, scoring one point at the free throw line. She sat out last spring and the fall semester at Baylor until her eligibility allowed her to play in late December.
"Destiny Williams was inserted into the starting lineup in the last game because she's now eligible," said Mulkey about starting the 6-1 forward. "She's becoming more comfortable with the system. She needs game time experience with the other four starters and to have Destiny and Brooklyn Pope both be able to contribute at the four spot is only going make us better."
Williams had 12 points and six rebounds in the win over Kansas. Mulkey has been pleased with her performance so far.
"She shoots the ball extremely well facing the basket," said Mulkey. "She is a tremendous offensive rebounder and fundamentally she blocks out as good as any post player we have."
Even though Baylor lost former starting senior point guard Kelli Griffin who quit at the beginning of the regular season, the team has a lot of depth and according to Mulkey, her players have no qualms about not starting as long as the team is successful on the court.
"It doesn't matter about starting," she said. "These kids will tell you 'who cares who starts?' You want to be in the game when the game is being decided and when the game is on the line."
The Series
Texas Tech is 46-24 against Baylor (including a forfeit by Baylor in 1989). In the last 14 games between the two schools, Baylor owns a 13-1 lead, including nine straight victories. The Lady Bears' lone loss during that span was a 64-62 defeat in Lubbock on January 15, 2006. Mulkey is 16-7 overall against. the Lady Raiders and 8-2 in the Ferrell Center.
Saturday's game is a doubleheader with the men's team. The Baylor men's team host Oklahoma State at 3 p.m. followed by the women's game at 7:30 p.m. The arena will be cleared between games. The school is offering a doubleheader deal: both games for $20 for adults and $10 for youth. Tickets can be purchased at the Baylor ticket office or by calling 254-710-1000.