No. 1 Baylor opens up Big 12 play with a win over No. 17 Iowa State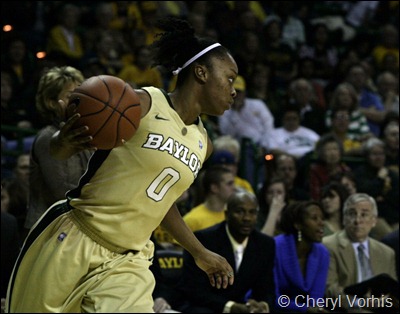 Baylor freshman Odyssey Sims had a team high 8 rebounds to add to her 15 points.
Waco, TX – In the first game of Big 12 conference play Saturday, No. 1 ranked Baylor (14-1, 1-0) made sure to get payback from a defeat last year at the hands of Iowa State (12-3, 0-1). The Lady Bears came out the gate on a 16-0 run and never looked back. They defeated the No. 17 Cyclones 70-58 in front of a crowd of 7,780 at the Ferrell Center in Waco in a game that tipped off at 11:00 a.m.
Baylor 6-8 sophomore center Brittney Griner had a credible opponent at tip-off in ISU's 6-7 sophomore Anna Prins. However, Griner won the tip and sent the ball to freshman point guard Odyssey Sims.
Baylor's defense set the tone early on during the game not only shutting down ISU offensively but also causing the Cyclones to commit multiple turnovers, mistakes that cost them dearly in first eight minutes of the game when they were scoreless.
"When you play great teams and you make a mistake, they make you pay for it," said ISU head coach Bill Fennelly of his teams' performance. He credited Baylor's defense for keeping his team without points for the first several minutes of the game.
"Baylor's defense was very aggressive early," he said. "We had a couple chances to score, and like I said, you are not going to get a wide open shot at this level. We had a couple looks that, you know, you have to make one. Sometimes you have to score enough to stop the bleeding, or defend, but we were having trouble doing either one of them. But I don't think our defense was that bad. They hit a couple shots and we fouled them a couple times. So I think it's a combination of all the above. I would say that it was Baylor's defense more than anything."
Fennelly also joked about looking forward to enjoying watching other Big 12 teams compete in Waco for the rest of the season.
"I hope everyone else enjoys coming here for the rest of the year," he said to chuckling reporters.
Baylor head coach Kim Mulkey answered a question about what made her team start the game dominating the Cyclones.
"We were ready to play," she said. "Don't look at that score. You are going to see lots of that in the Big 12. I was very pleased with our preparation. I thought the coaches were well prepared. I thought our players listened. Sure we made mistakes, sure we are going to learn, sure we are young, but you know we are going to guard you. I think it starts with on-ball defense first. We challenged them. I think (Kelsey) Bolte had one bucket in the first half. She makes a lot of threes. I just thought that you saw the depth of our basketball team."
Iowa State took the last shot going into the break – a failed three point attempt by Kelsey Bolte. The senior guard was held to two points in the first half while Prins had 11. Baylor led 34-22 at the half. Griner had 14 of the Lady Bears' points while transfer Destiny Williams came off the bench to contribute seven.
Iowa State started the second half with a more balanced scoring effort and managed to close the gap. Mulkey attributed Iowa State's brief comeback to tiredness on the part of her squad.
"I thought some of it was just fatigue," she said. "Honestly, I thought we just played so hard and I thought fatigue allowed them to hit some threes. I thought, obviously some of their sets are tough to guard. They spread the floor on you. They have got a 6-7 kid out there shooting threes. They are well-coached. They are never going to go away. You can have a double figure lead on those guys and because of their style of play, they are in the ball game after two or three more possessions."
However, Iowa's brief scoring burst was not enough to overcome Baylor's smothering man-to-man defense and offensive prowess. Baylor shot 52.2 percent from the field in the second half and despite Iowa's climb back to get within seven points early on, Baylor finished on a high note with the last points of the game coming from the freshman Sims.
Overall, Griner tallied 25 points and Sims had 15 and a team-high eight rebounds. The freshman was pleased with her rebounding effort.
"It feels great," she said when asked about leading the team in rebounds. "I don't really rebound like that. Coach told me in practice that a lot of rebounds are coming long, so I got every rebound I could coming off the rim. Some came to me, some I had to go and scramble and get it. It is great to get rebounds and I will try to get more and help my team rebound."
Baylor travels to No. 22 Texas next to face the Lady Longhorns on Wednesday at 7 p.m. in Austin.
Iowa State heads back home to Ames to host Nebraska on Tuesday at 7:00 p.m. CT.
Notes
Baylor is now 8-7 in Big 12 Conference openers, including a 5-4 mark in home openers. Head coach Kim Mulkey is 7-4 in league openers and 4-1 at home.
The Lady Bears are 12-6 all-time against Iowa State and 7-1 at home.
Baylor is now 66-56 against ranked opponents.
The win extends Baylor's season win streak to 11 games.
The crowd of 7,780 was the second-largest crowd of the season behind the Dec. 14 game against Tennessee (10,569).
Brittney Griner (25 pts) has scored in double-figures in 48-of-50 career games, including all 15 this season. It marked her ninth 20+ point performance of the season and 24th of her career.
Odyssey Sims registered a season high eight rebounds. Sims (15 pts) recorded her 10th double-digit scoring performance of the season and 10th in the last 11 games.
Destiny Williams (11 pts) collected her second double-digit scoring effort of her career.