No. 1 Baylor sits atop the Big 12 after down-to-the-wire win over Texas A&M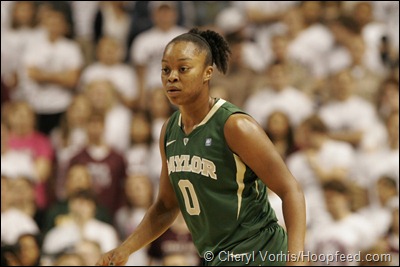 Baylor freshman Odyssey Sims led all scorers with 25 points.
College Station, TEXAS – No. 1 Baylor (19-1, 6-0) reigns in the Big 12 and maintains its win streak over Texas A&M (18-2, 6-1) beating the Aggies for the sixth straight time in front of a record-setting crowd of 13,162 in College Station Sunday afternoon. The Lady Bears took sole possession of the top position in their conference with the win.
"It was a great atmosphere," said Baylor head coach Kim Mulkey who said she wanted to challenge A&M fans to come out in numbers like that for all of the Aggie home games. "By far it's the best that Coach Blair's program has ever had since we've been coming here. As I told our players, and I mean this, it's a shame he doesn't have that crowd for every game. He deserves it. He shouldn't have to wait for Baylor to come here. It makes all of us that love this game feel valued and appreciated and it was just a great atmosphere."
In addition to the fans, the presidents of both universities attended the game. A&M president Dr. R. Bowen Loftin even spoke with A&M head coach Gary Blair courtside for several minutes before the game.
"We really appreciate the fan support this game," said senior guard Sydney Colson of the largest crowd ever to watch a women's basketball game at A&M. "We had people come from all over Texas and some other states."
While Baylor came away with the victory, it was not easy going for much of the game. In fact, the Aggies seemed on the verge of building momentum but they were not able to sustain runs in order to either overcome deficits or get a significant lead when the game was tied. Even so, the game went down to the wire.
"That was just good basketball," said Blair, "You saw two well-coached teams, you saw a very educated crowd, you saw us come back."
During the first half, A&M took the early lead after two turnovers from both teams. Sydney Carter made a three-point basket and the Aggies built an eight-point lead before the Lady Bears fought back. The teams were tied with 13 points each at 10:54. The lead went back and forth for several minutes until Baylor went on a 9-0 run to build an 11-point lead. The Lady Bears went into the break leading by 10, 36-26.
Baylor came out in the second half with two quick shots extending their lead to 14.
"I thought we started the second half very well," said Mulkey. However, A&M was not ready to give the game to Baylor. A&M went on a 7-0 run and the teams went back and forth until the game was tied at 44 with 12 minutes left. A&M managed to build a two-point lead until Baylor freshman Odyssey Sims' hot shooting helped the Lady Bears build their lead again. But yet again, the Aggies roared back even without the services of senior post Danielle Adams who fouled out at three and a half minutes left in the game.
A&M's defense, especially on Baylor's 6-8 center Brittney Griner was the catalyst for getting the opportunities to take the lead near the end of the game.
"Our defense for sure, getting up and being in the press, even not necessarily getting a steal, but not letting them walk it up the court," said senior guard Sydney Colson. "We wanted to take some time off of the clock, to make them run offense with 20 or 15 seconds on the clock, and if we take Griner away, then they have to drive and force it inside."
After the score was tied at 60 with 49 seconds left in the game, the first-year Sims made a jumper that sealed her team's victory. A&M was forced to foul right away, sending Lady Bear senior Melissa Jones to the line.
Sims led all scorers with 25 points and Blair praised her performance.
"She's played like that all year and that's the difference," he said of Sims. "I don't think there's a freshman point guard in the country that's as good as her. Odyssey has the ability to control in midair and a lot of players don't know how to use that arm. The Big 12 graduated a lot of great players last year, but the strength of our league right now is through the freshmen and sophomores that play."
Blair dismissed the notion the lack of experience would hinder talented freshman and sophomore in tough game stretches.
"If you can play, you can play, doesn't matter how old you are," he said. "They're a better team because Odyssey is in there."
Griner also had double figures: 17 points, 12 rebounds and four blocks.
For the Aggies, junior guard Tyra White had 18 points and eight rebounds. Adams scored 13 and pulled down 11 rebounds. Colson scored 14 points.
The Aggies travel to Lubbock to face Texas Tech on Saturday, February 5 at 2 p.m.
Baylor hosts Oklahoma on Wednesday, February 2 at 7 p.m.