UConn freshman forward Samarie Walker leaves team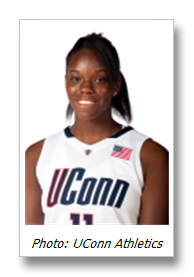 On Thursday the Connecticut Athletic Department released the following statement:
Freshman forward Samarie Walker has informed head women's basketball coach Geno Auriemma of her intention to transfer from the University of Connecticut.
"The coaching staff has known for quite some time that Samarie is struggling with her commitment level to basketball," Auriemma said. "We have attempted to work with her and help her through this. I wish Samarie all the best in her future endeavors."
"I want to thank Coach Auriemma for the opportunity to be here but right now I can't give the team the energy and commitment that it needs to be successful. I need to go and figure out what my future holds," Walker said. "I have struggled with this for some time and remaining here would not be fair to my teammates or the coaching staff."
Walker played in seventeen games for UConn and saw one starting assignment. She averaged 6.2 points and 5.8 rebounds in 18.8 minutes per game.