Baylor coach Kim Mulkey talks about meeting Texas A&M yet again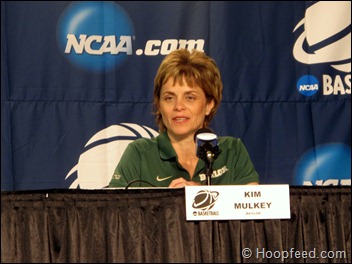 Baylor coach Kim Mulkey during Saturday's press conference.
Last night in the lower region hallway of American Airlines Center after a hard fought win over Green Bay, Baylor head coach Kim Mulkey held court as reporters with TV cameras and audio recorders surrounded her to ask her about meeting Texas A&M for the fourth time in a season, the final meeting of which will determine a Final Four bid.
Mulkey did not waver much from her long response to a question about Tuesday's matchup during the night's postgame press conference. In her own words to a question about meeting the Aggies again:
You got time? I don't like playing them again, because I think it takes away the opportunity for two Big 12 teams to have made it to the Final Four.

I enjoyed the fact that Oklahoma was there last year and we were there. And I don't want this to come out negative. So please understand what I'm saying. I wouldn't want to be on the committee. I wouldn't want to referee. But somebody has to do it.

And when that committee sits down, and I don't have the answer to help — if I had the answers I would share them with you — we have so many agendas in women's basketball that we have to discuss. And I don't know that those agendas will ever go away, and that is geography, putting rear ends in seats.

So you're going to probably have these types of setups in the future. You've had them in the past. Coaches want to have good coverage when a TV looks at an NCAA game.

But I'm not sure if you've worked so hard through the course of the year to gain a 1 and a 2 seed, I just don't think any of us, not A&M, and not Baylor, not the fans — I guess it's a newness and a freshness that you're looking for in the NCAA playoffs, because we do have rules pertaining — and correct me if I'm wrong, I know there's some people here that can correct me, but you do have some rules in your first rounds where geography — you can't play somebody in your conference.

So there's so many agendas that they're trying to take care of. I don't know how they do it. The crowd and all that will be awesome. But, truly, it's going to be sad for either team. It's going to be sad for whoever loses, because we lose an opportunity, in my opinion, to have two teams that should be in the Final Four this year.