Baylor launches Brittney Griner website: Griner42.com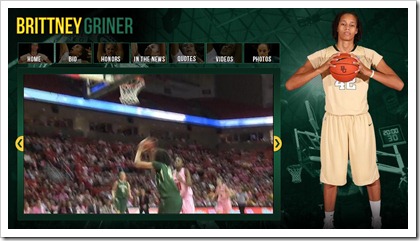 Baylor Athletics announced the launch www.Griner42.com on Friday afternoon. The site will promote Baylor's All-America and Player of the Year candidate, Brittney Griner.  It was created in partnership with CBS Interactive.
"We are thrilled to launch Griner42.com today," said Baylor Executive Associate A.D./External Affairs Nick Joos. "We believe this site will not only promote Brittney Griner this year in her National Player of the Year run, but for the remainder of her Baylor career. She is an outstanding player and most-deserving of a website solely dedicated to her achievements as a Lady Bear.
Griner, a 6-8 sophomore post from Houston, is averaging a team-leading 22.3 points and 7.7 rebounds a game. She ranks among the national and Big 12 leaders in scoring, blocked shots (4.5 bpg) and field goal percentage (.541).
"We also believe this site will further promote and enhance coach Kim Mulkey's championship program," added Joos, "as well as the Baylor brand."